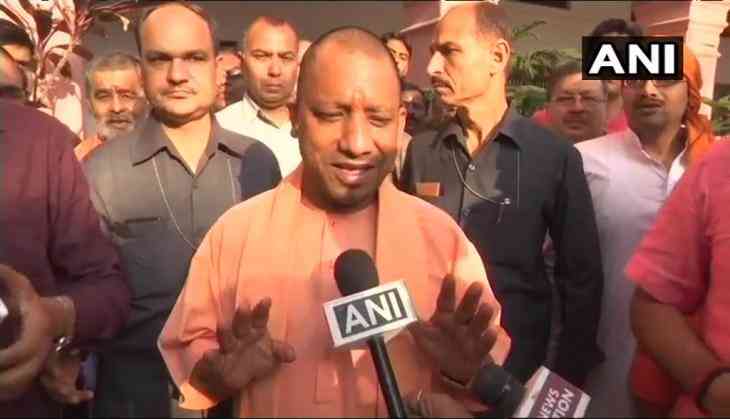 UP Chief Minister Yogi Adityanath has expressed his gratitude towards the Raipur citizens for building a Ram temple in the city, during the last day of rally for the upcoming Chhattisgarh Assembly election.
The last phase of the election rally saw BJP president Amit Shah, Congress chief Rahul Gandhi campaigning in the state as the Chhattisgarh goes to poll on November 12, in the first phase of its polling and hence, the election festival will begin.
The election will be a mandate for the ruling BJP, which has been in the power since the sate came into existence and Raman Singh has been the chief minister of the state, thrice in a row. This time around, under high anti-incumbency, the state is reeling under pressure to change the dispensation but in the absence of a formidable Opposition, it will be a tough fight for the third front as well, led by BSP's Mayawati and former Congress leader Ajit Jogi.
UP CM Yogi Adityanath had recently celebrated Diwali in Ayodhya and had changed the name of Faizabad district as Ayodhya. He also promised good news before next year in relation with Ram Mandir. Now, as he rallies in the Chhattisgarh, he has expressed his thanking gesture for constructing a huge Ram temple and honouring the God.
He said, "Maine pichhli baar yahan aakar kaha tha Bhagwan Ram ke nanihaal mein jab Bhagwan ka mandir ban jaega to janmbhoomi mein bhi mandir avashya ban jaega aur main dhanyawaad doonga #Chhattisgarh vaasion ka ki unhone Raipur mein Bhagwan Ram ka ek bhavya mandir ka nirmaan kiya hai."
Also read: Election Commission bans exit polls for assembly election in poll-bound states from Nov 12 to Dec 7
Maine pichhli baar yahan aakar kaha tha Bhagwan Ram ke nanihaal mein jab Bhagwan ka mandir ban jaega to janmbhoomi mein bhi mandir avashya ban jaega aur main dhanyawaad doonga #Chhattisgarh vaasion ka ki unhone Raipur mein Bhagwan Ram ka ek bhavya mandir ka nirmaan kiya hai:UP CM pic.twitter.com/0UW6mfVg3T

— ANI (@ANI) November 10, 2018