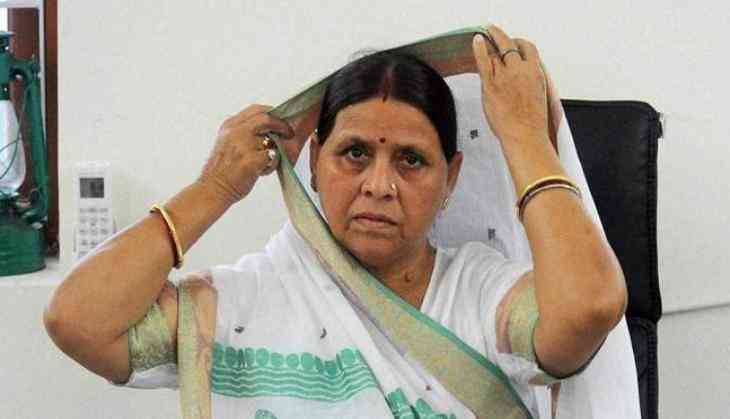 Former Bihar Chief Minister and Lalu Prasad Yadav's wife Rabri Devi will not celebrate the Chhath Puja this year. She has decided that this year she will not celebrate the festival due to the Tej Pratap's divorce.
This news has come to light when Bhola Yadav, a Rashtriya Janata Dal legislator considered close to party chief Lalu Prasad's family told about the decision of the family.
However, Rabri Devi has been upset over the decision of her son Tej for the last one week, who wanted a divorce from his wife Aishwarya. He has also threatened his family that he won't come to home until his parents supported his decision.
Bhola Yadav has told to IANS that Rabri Devi was unhappy over Tej Pratap's reported statement that he won't return home until his parents accept his decision.
He also added that in such family disturbances, Rabri Devi will not celebrate the Chhath puja.

However, the family is trying hard to persuade tej Pratap to return home but he has stuck on his decision, said Yadav.
Recently, Tej Pratap was busy camping in Haridwar after visiting Varanasi a few days ago.
Reportedly, Tej Pratap, former Health Minister in Bihar government didn't come his home since he met his father Lalu Prasad Yadav, who has been sentenced jail in the fodder scam. Tej Pratap has discussed his decision with his father to divorce his wife Aishwarya Rai.
However, Tej Pratap married to Aishwarya on 12th May in Patna this year. Aishwarya is the daughter of RJD legislator and former Minister Chandrika Rai and granddaughter of Bihar Chief Minister Daroga Rai.
Notably, Tej Pratap has filed for divorce in a Patna civil court on 2nd November citing 'mental cruelty'.
Watch Video:
Also read: Chhath Puja 2018: Pregnant woman travelling to Bihar to celebrate Chhath puja, murdered for objecting to smoking in train