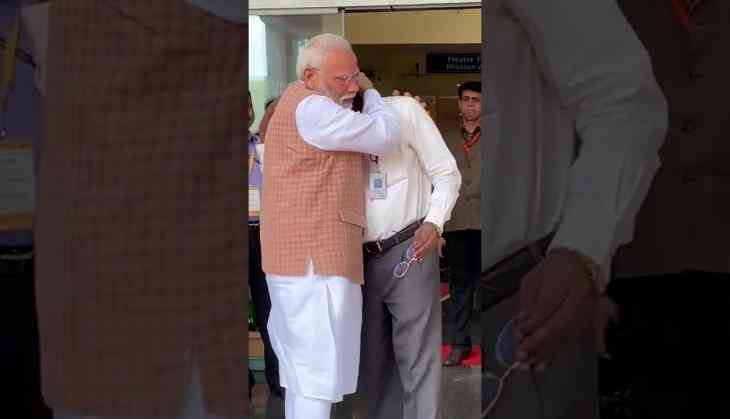 Prime Minister Narendra Modi addressed the nation this morning after ISRO lost communication with Chandrayaan 2 lander. PM Modi got emotion on Saturday when he met ISRO chief K Sivan.
PM Modi was seen consoling, hugging ISRO chief K Sivan after his emotional breakdown.
See video:
#WATCH PM Narendra Modi hugged and consoled ISRO Chief K Sivan after he(Sivan) broke down. #Chandrayaan2 pic.twitter.com/R1d0C4LjAh

— ANI (@ANI) September 7, 2019
On Friday, PM Modi visited Bengaluru to witness Vikram's landing on the lunar surface. At last moment, ISRO lost its contact with the lander and then, K Sivan made the grim announcement, "Vikram lander's descent was as planned and normal performance was observed up to an altitude of 2.1 km. Subsequently, the communication from the lander to the ground station was lost. The data is being analyzed."
PM Modi also patted K Sivan on the back after addressing the nation from ISRO control station, said: "Our determination to touch moon has become even stronger and the best is yet to come."
However, if Vikram lander successfully landed on the lunar south pole's surface then, India would have become the fourth country after the United States, Russia, and China-- to land on the moon.
On Saturday morning PM Modi at ISRO control station boosted up ISRO scientist and said: "There will be a new dawn and a brighter tomorrow very soon."
-With agency inputs
Also Read: PM Modi: No failure in science