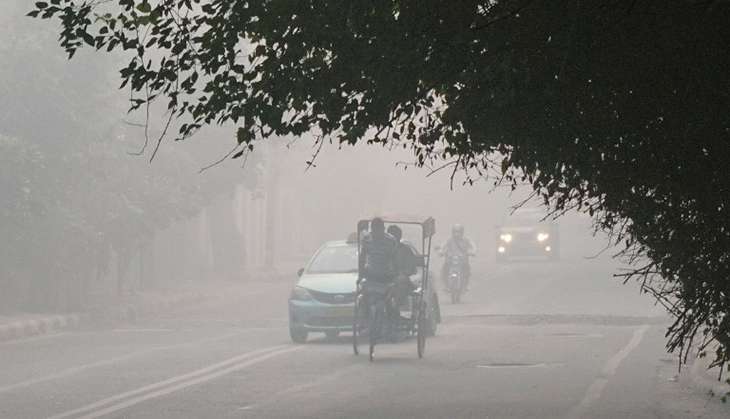 On 7 November, Centre will convene an emergency meeting of Environment Ministers of Punjab, Haryana, Rajasthan and Uttar Pradesh to tackle the alarming level of pollution in Delhi.
Union Environment Minister Anil Madhav Dave will chair the meeting to chalk out an action plan to control the rising pollution levels.
Heavy smog covered the capital city Delhi on the seventh consecutive day today.
#WATCH Heavy smog blankets the capital city Delhi, situation has been the same over past one week. pic.twitter.com/aZtSblK8oZ

— ANI (@ANI_news) November 7, 2016
Talking to media in New Delhi yesterday, Dave said that no one should indulge in a political blame-game to fight pollution in the national capital.
He appealed for a united response to tackle the problem. He said that the ISRO images show that the role of neighbouring states and their contribution is only 20 percent and blaming them would not work.
Meanwhile, the Delhi Government has decided to close all schools for the next three days and shut down all constructions and demolitions for five days.
Addressing media after holding a Cabinet meeting to discuss the issue yesterday afternoon, Delhi Chief Minister Arvind Kejriwal said that he won't point fingers at anyone and stressed on the need to sit down and come out with a solution.
He sought the Centre's support, saying the Delhi Cabinet has discussed about artificial rain. He said, emergency measures are the need of the hour instead of politicising the Delhi's pollution issue.
The Delhi Government has announced several emergency measures to tackle the unprecedented level of pollution plaguing Delhi and the NCR.
Water sprinkling on roads will begin tomorrow and vacuum cleaning measures to deal with dust pollution will start next week.
Badarpur thermal power plant will be closed for ten days from Monday. Landfill sites fire will be extinguished and transportation of fly ash will be stopped for 10 days. City government is also planning to bring back Odd Even scheme soon and preparations are already on.
--ANI