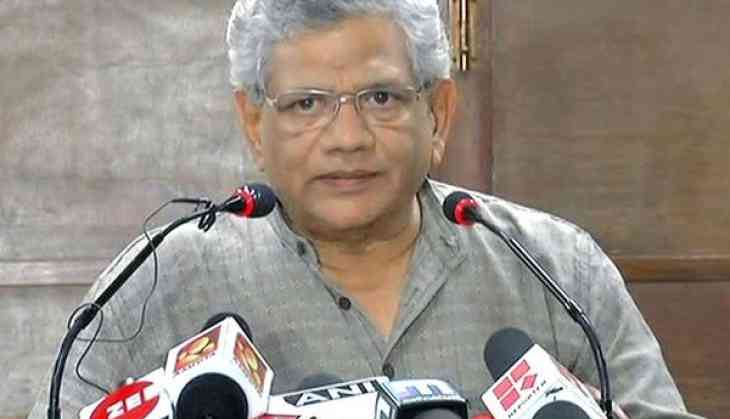 After fugitive liquor Baron Vijay Mallya claimed that he met Finance Minister Arun Jaitley to "settle matters" before he left India, Communist Party of India (Marxist) general secretary Sitaram Yechury asked the Centre to own up to the fact that it allowed the 'loot' to take place.
Yechury told ANI, "They (Government) have to own up to the fact that they allowed this loot to happen and the fact that they are allowing this loot to happen, more people are looting."
The CPI (M) leader underscored that if the government had correct intentions, it could have unearthed the scam earlier.
He asserted that the government can deny the facts, but all those who looted public money by taking loans from banks and absconded, "not one of them happened to leave the country without the knowledge of the government."
Congress leader Anand Sharma said that the finance minister should have revealed about his meeting with the liquor baron in the Parliament and added that, "Only the Finance Minister can tell why he didn't tell about it?"
Another Congress leader Salman Khurshid said that "Mallya was an MP and Jaitley played a major role in his becoming an MP. The fact is if such an offer was made, then the finance minister should've told him (Mallya) lets us fix how you'll take this forward. Fact remains a person who owes it to the country isn't available in the country."
Earlier on Wednesday, Mallya confirmed that he met and informed Finance Minister Arun Jaitley before "leaving for London" in 2016.
"I happened to meet Jaitley in Parliament and told him that I am leaving for London... I did not have any formal meetings scheduled with him," Mallya said.
He also said that he had met Jaitley several times and expressed his willingness to settle the bank loans.
However, the Finance Minister rebuffed the claims by fugitive liquor baron Vijay Mallya.
Speaking to ANI on Mallya's claim, Jaitley said, "I have seen the statement of Vijay Mallya where he claims to have met me with an offer of settlement. Nothing could be further from the truth. I never gave him (Mallya) an appointment, never at my office, never at my residence. Nor I was ever offered to meet him."
(ANI)