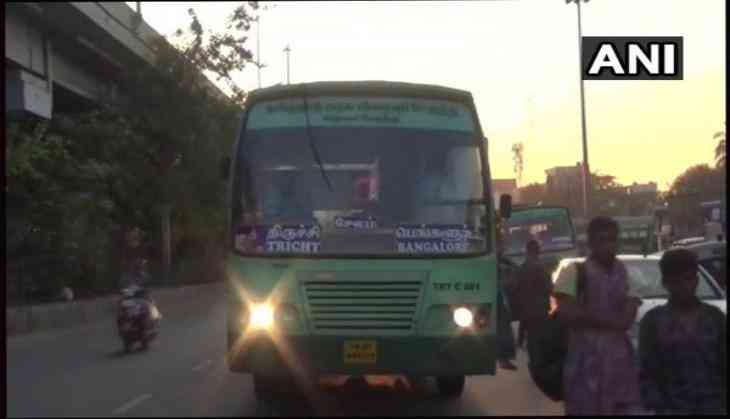 Bus services curtailed (ANI)
Amid the verdict to be announced on decades-old Cauvery water dispute, bus services between Tamil Nadu and Karnataka have been curtailed as per precautionary measures.
Commuters in Tamil Nadu's Hosur said the number of buses plying to Karnataka has been reduced in the wake of the verdict today.
Meanwhile, the Tamil Nadu farmers association said that efforts were made by Chief Minister Edappadi K. Palaniswami to speak to Karnataka Chief Minister Siddaramaiah on the issue but received no response.
Speaking to ANI, PR Pandian, member of the farmers association said, "Tamil Nadu Chief Minister tried to speak to Karnataka Chief Minister on the issue but Siddaramaiah did not respond to it. No due water has been released to Tamil Nadu because of which crops in 5,000 acres of land are dying".
He added that justice should be done.
Meanwhile, in Karnataka's Mandya, protests are being held by Karnataka Rakshana Vedike.
Security has been tightened in Karnataka's Bengaluru.15,000 police personnel and personnel of the Karnataka State Reserved Police and other forces would be deployed.
Tamil Nadu has deployed hundreds of police personnel across Chennai city and towns bordering Karnataka.
All eyes are on the Supreme Court as it is poised to act on the decades-old Cauvery water dispute between the neighbouring states of Karnataka, Tamil Nadu, and Kerala.
A bench headed by Chief Justice of India (CJI) Dipak Misra will pronounce the verdict on the appeals filed by Karnataka, Tamil Nadu and Kerala against the 2007 order of the Cauvery Water Dispute Tribunal (CWDT) on sharing of water.
Earlier on September 20, 2017, the court had reserved its order on the matter.
Tamil Nadu, Karnataka, Kerala, and Puducherry had filed petitions seeking modification of Cauvery Tribunal's final order.
The dispute dates back to the Madras-Mysore agreements of 1924. It was in 1990 when the Centre created a tribunal to examine the conflict and address the water shortage.
The CWDT had unanimously passed an order on how the water should be shared between the states after determining the total availability of water in the Cauvery basin.
--ANI