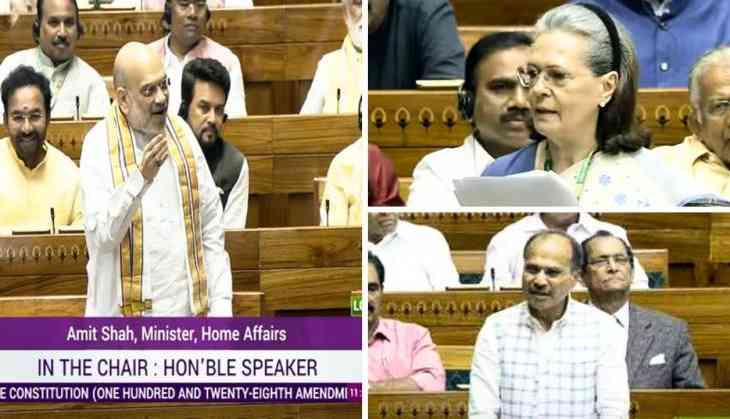 Amit Shah's dig at Adhir Ranjan in Lok Sabha
New Delhi: Home Minister Amit Shah on Wednesday took a dig at the Leader of Congress in Lok Sabha Adhir Ranjan Chowdhury after he interrupted Bharatiya Janata Party (BJP) MP Nishikant Dubey when he stood up to speak on the Women's Reservation Bill.
BJP MP Nishikant Dubey stood up to speak after Congress Parliamentary Party Chairperson Sonia Gandhi's remarks on the Nari Shakti Vandan Adhiniam in the Lok Sabha.
There was a brief ruckus in the House as Adhir Ranjan Chowdhury and other MPs from the opposition insisted that the Government should have nominated a woman MP to speak.
Amit Shah intervened and took potshots at Adhir Ranjan Chowdhury for interrupting Dubey's speech and said he may be getting "jealous" as he did not get to speak first.
"I want to ask Adhir Ranjan ji, will only women care for women, can men not speak up for them? What kind of society do you want to build? Women's welfare, women's concerns…brothers should be a step ahead. That is the tradition of this country. Everyone has the right to think of women's welfare. And when Nishikant ji stood up from our side to speak, what was his (Chowdhury's) objection? Maybe because he didn't get the chance to speak first, he is getting a little jealous," Amit Shah said.
The bill was earlier moved for passage in the House by Union Law Minister Arjun Ram Meghwal.
The bill was introduced in Lok Sabha on Tuesday, the first sitting of the House in the new Parliament building. Sonia Gandhi, who initiated the debate on the bill, extended her party's support and demanded its immediate implementation. She said that a delay in implementing the bill is an injustice to the women of the country.
The Bill will be taken up for discussion in Rajya Sabha on September 21, government sources said.
(ANI)