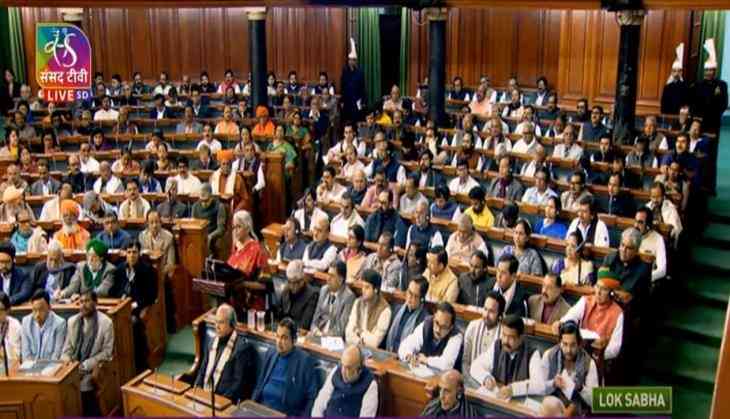 The Budget session started on a high note as rival slogans of "Modi, Modi" and "Jodo Jodo Bharat Jodo" echoed in Parliament on Wednesday during Union Finance Minister Nirmala Sitharaman's Budget speech.
As Finance Minister Sitharaman began her Budget speech, slogans were raised from both sides in the Lok Sabha.
Bharatiya Janata Party Lok Sabha members, who raised 'Modi-Modi' slogans were countered by Congress MPs who retorted with slogans of the recently concluded Bharat Jodo Yatra.
The episode was evidence of Congress' clear intention which is believed to be coming well-prepared to counter the Central government during the Budget session.
This Budget session is expected to be stormy with the opposition parties seeking to raise several issues of their concern.
The multi-party meeting chaired by Defence Minister Rajnath Singh on Monday ahead of the Budget session made it clear that the opposition parties will try to corner the government by raising issues including those related to Adani stocks and the BBC documentary.
During the meeting, the opposition parties asked the government to hold a discussion on the issue concerning Adani stocks saying it concerns the economy of the country and the people.
The parties that raised the issue included RJD, CPI-M, CPI, Aam Aadmi Party (AAP) and National Conference.
"Why is no inquiry done? Where is CBI (Central Bureau of Investigation), ED (Directorate of Enforcement) or SEBI (Securities and Exchange Board of India)? Why is it allowed to swindle funds belonging to the public? We have asked for a discussion on the floor of the house and if the government doesn't bring it, we will again raise it in Parliament," AAP leader Sanjay Singh told ANI.
The representatives from the Congress party didn't turn up in the all-party meeting as they were busy with Bharat Jodo Yatra's finale.
This year's budget session is going to have 27 sittings till April 6 with a month-long recess to examine the budget papers. The first part of the session will conclude on February 13. Parliament will reconvene on March 12 for the second part of the Budget Session and conclude on April 6.
(ANI)
Also Read: Budget 2023: Finance Minister presents union budget; major updates