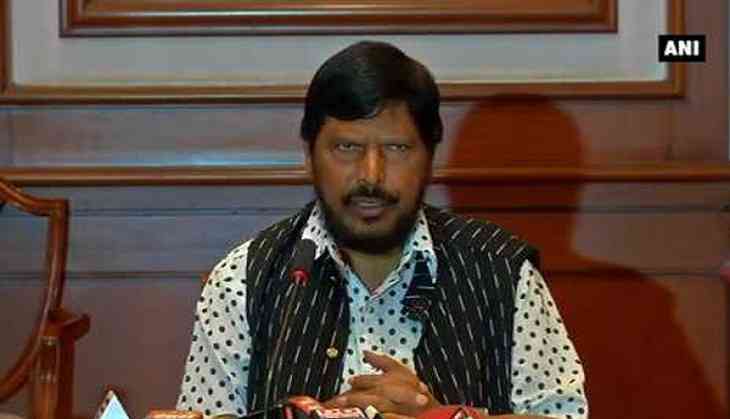 Bahujan Samaj Party (BSP) on 2 October tore into Union Minister Ramdas Athawale for his suggestion to the dalits to join the Indian Army for foreign liquor, saying that the remark of the minister shows his mindset about the backward class of the country.
BSP leader Sudhindra Bhadoria objected Athawale's remark and said that it should be condemned by all.
"This only speaks about the mindset of this government; they think that the dalits are not doing anything in this country except for consuming liquor," Bhadoria told ANI.
"This whole nation, for past 2000 years, has been standing on the shoulders of the Indian dalits. They have been working on the field, on construction sites and therefore to say that the dalits are only consuming liquor is something that needs to be condemned by one and all," he said.
Earlier on Sunday, Athawale asked Dalit youth to join the Indian Army to get foreign liquor, instead of consuming country liquor while unemployed.
While interacting with media in Pune, Athawale said he would personally make efforts to ensure that Dalits get reservation in the defence.
"The Army provides good food and liquor. Instead of consuming country liquor while being unemployed, the Dalit youths should join Army where they can get rum," Athawale said.
On a related note, the BSP leader also expressed grief over an incident in Gujarat, where a Dalit man was beaten to death by a group of men belonging to the upper caste for attending a garba event.
Bhadoria said Gujarat has become a state where maximum numbers of atrocities are taking place on dalits.
"This proves that the whole Gujarat model of Prime Minister Modi was nothing more than atrocities on dalit that has been multi-fold increasing with the BJP in power in Gujarat and in the rest of the country," Bhadoria said.
He appealed to the people of the nation to rise against the Prime Minister for 'high-handed administrative lapse which are taking place in his own home state of Gujarat.'
-ANI