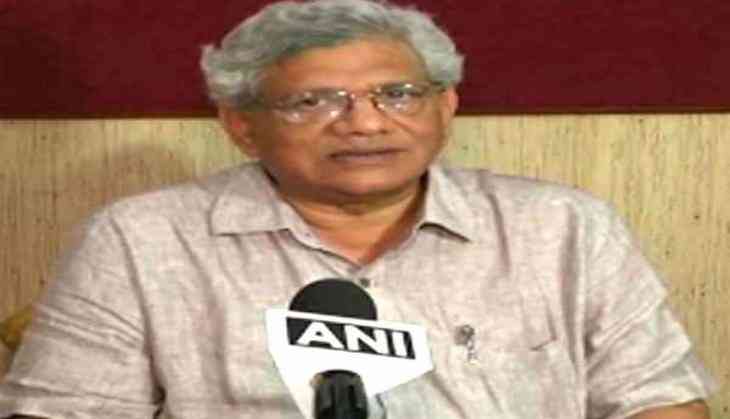 Communist Party of India-Marxist (CPI-M) general secretary Sitaram Yechury on Tuesday launched a scathing attack on the Centre and called the arrests of five people from various cities across India in connection with the Bhima Koregaon violence a "blatant attack on democratic rights in the country."
The raids were carried out in Mumbai, Ranchi, Hyderabad, Faridabad, Delhi and Thane. As per sources privy to the latest developments in the case, Varavara Rao, Arun Ferreira, Gautam Navlakha, Varnan Gonsalves and Sudha Bhardwaj were arrested following the raids that were conducted by the Pune Police. The police have booked all these accused under Sections 153 A, 505(1) B,117,120 B,13,16,18,20,38,39,40 of the Indian Penal Code (IPC) and Unlawful Activities (Prevention) Act.
"This is a blatant attack on democratic rights in the country. (It's) worse than what we have seen in the declared Emergency of 1975. Here there is nothing... No official declaration. This is to be strongly condemned. The CPM demands that all these people, who have been picked up, be released and whatever be the cases against them - in case there are any - let the law take its course. But this sort of harassment - this is something that is not acceptable," Yechury said while addressing a press conference here.
Yechury added that the Bharatiya Janata Party (BJP) government is "trying to protect the culprits of Koregaon-Bhima violence by harassing civil and human rights activists."
Activists Varavara Rao and Sudha Bhardwaj were detained in Hyderabad and Faridabad respectively and Gautam Navlakha was arrested from Delhi. A search was also conducted at activist Stan Swamy's residence in Ranchi. However, he was not arrested.
The Bhima Koregaon violence erupted while observing the 200th anniversary of the Bhima-Koregaon battle in January. A youth died and several others, including 10 policemen, were injured in the violence.
(ANI)