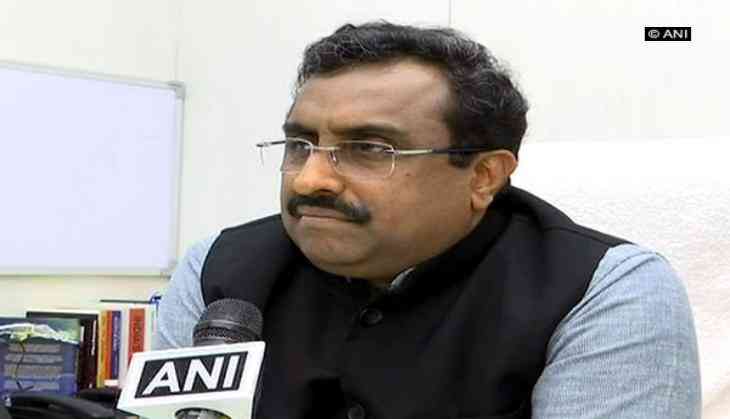 The General Secretary of the Bharatiya Janata Party (BJP), Ram Madhav, on Sunday criticised Farooq Abdullah, the president of the National Conference (NC), saying that Abdullah is playing party politics ahead of the Panchayat and urban local body polls in Jammu and Kashmir. Madhav said that the Kashmiri leader does not want the people of his state to avail democratic rights.
After announcing his party's plans to withdraw from the Panchayat polls a few days ago, Abdullah on Saturday threatened to boycott Lok Sabha and Assembly elections also if the Centre fails to give an assurance on protecting the Articles 35A and 370 respectively, which are enjoyed exclusively by the people of Jammu and Kashmir.
Reacting to the NC chief's threat, Madhav said, "In order to provide Kashmir people with their democratic rights, we want local body election to happen in the Valley, Jammu and Ladakh. Farookh Abdullah has always done politics of his own party and never made efforts to ensure the democratic rights of people. Now when Prime Minister Modi is doing so then he is opposing it by making excuses."
He added, "I want to ask Farooq Abdullah if he is opposing Panchayat election because of Article 35A, then why did he contest the election in Kargil and how did he win 10 seats? These are just excuses."
While addressing an event commemorating the death anniversary of his father late Sheikh Muhammad Abdullah on Saturday, the former chief minister said, "We will not only boycott Panchayat elections but also Lok Sabha and Assembly elections if the Centre doesn't clear its stand on Article 35A and Article 370."
Meanwhile, National Panthers Party leader Bhim Singh feels that Abdullah's decision to pull out Panchayat polls is a "blessing in disguise" for the people.
"I come from Jammu and Kashmir and was MLA during Abdullah's government in the state. Will there be any difference if they will not contest in the election? I have received around 1000 texts from people of the state asking not to let NC contest in the election," Singh told ANI.
"If they (NC) will not contest in the election then it will be a blessing for the people. People of Jammu and Kashmir welcome this decision," he added.
(ANI)