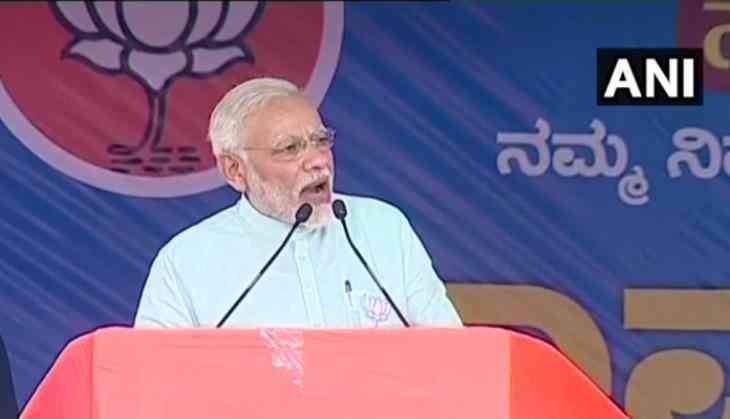 Prime Minister Narendra Modi will address four public rallies in poll bound-Karnataka on Saturday.
As part of his campaign blitzkrieg, the Prime Minister will address election rallies in Tumkur, Gadag, Shimoga and Mangaluru.
According to reports, the Bharatiya Janata Party (BJP), which is looking to wrest control from the Congress, may increase Modi's election rallies to 21 from 15.
After addressing today's rallies, he is scheduled to stay back in Mangaluru tonight and will take up campaigning again tomorrow in Chitradurga, Raichur, Jamkhandi and Hubballi.
As opposed to earlier schedule, he may also address three public meetings each on May 6 and May 9.
Karnataka BJP president and party's chief ministerial candidate B.S. Yeddyurappa will accompany the Prime Minister in some of the rallies.
In addition, BJP's national president Amit Shah is also scheduled to lead road shows in Mysuru district today while Home Minister Rajnath
Singh will be addressing four public rallies in Kalburgi district.
Karnataka goes to polls on May 12 and 2,655 candidates, including 219 women, are in the poll fray for securing 224 seats up. The results will be declared on May 15.
Data provided by the Chief Electoral Office in Karnataka has indicated that the BJP will contest all 224 seats, while the Congress will contest 222 seats. The H.D. Devegowda-led Janata Dal-Secular will contest on 201 seats.
(ANI)