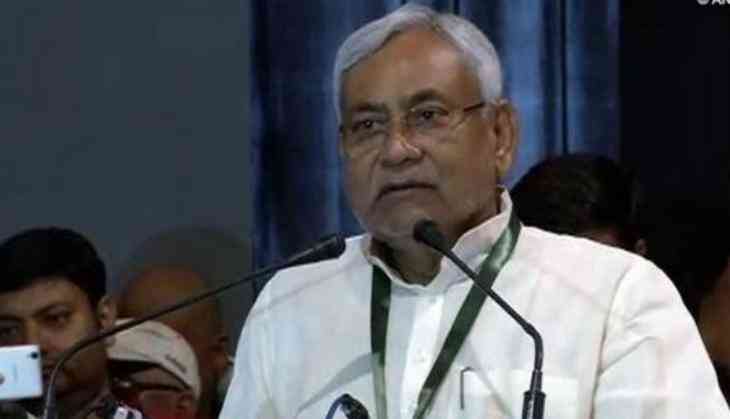 BJP-JD(U) MLAs to meet Bihar Governor residence to stake claim to form govt.
Nitish Kumar, Bharatiya Janata Party (BJP) leader Sushil Modi and other Janata Dal United leaders have left for Governor Keshari Nath Tripathi's residence, Raj Bhavan to stake claim for forming government in the state.
The development came late Wednesday night.
"We are taking the letter of support to the Governor to stake claim for forming government," said BJP leader Prem Kumar.
Sushil Modi also said that they are taking the letter of support to the Raj Bhavan.
Prior to this, BJP-JD (U) MLAs held a meeting at Nitish Kumar's residence.
However, Bihar Deputy Chief Minister Tejashwi Yadav, in a tweet, stated they will also stake claim to form government being the largest party.
"Have asked Governor for time to meet, being the largest party we will stake claim to from government," he tweeted.
https://twitter.com/yadavtejashwi/status/890277585518710785
After Nitish Kumar resigned as the Bihar Chief Minister, the (JD(U)) yesterday dubbed the grand alliance with the Rashtriya Janata Dal (RJD) as unnatural.
Earlier, Lalu Yadav had alleged that Nitish stepped down fearing his exposure in murder case slapped against him.
"Nitish Kumar knew that he is accused in a murder and an Arms Act case under Sections 302 and 307 of the IPC. He also declared this in elections affidavit. Nitish knew that if he would ask Tejashwi to resign then his crime will be exposed," Lalu told media.
Nitish handed over his resignation to Governor Keshari Nath Tripathi and confirmed it to the media even as he emerged after meeting him.
Meanwhile, Nitish is all set to take oath as the Bihar Chief Minister tomorrow at 5 p.m., coming back to the National Democratic Alliance (NDA) fold.
This will be the sixth time, when Nitish will take the oath as the Bihar Chief Minister.
-ANI