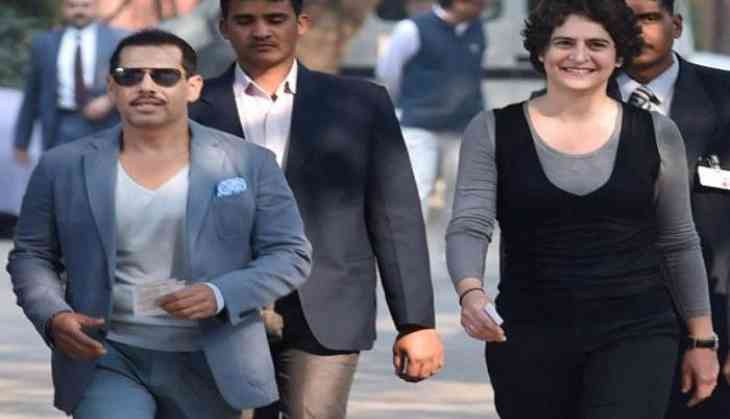 Robert Vadra and Priyanka Gandhi
After the raids by the Enforcement Directorate on the aide of Robert Vadra, the reports now suggests that the farmhouse rented by the "scamster" Jignesh Shah was owned by Rahul, Priyanka Gandhi.
Now, the Congress party has alleged that the BJP is trying to shift the attention from the issues of election to political vendetta and target the Gandhi family along with Robert Vadra.
Sambit Patra today held a press conference saying, " According to the news reports, we have come to know that there is a lavish farmhouse in Delhi's Mehrauli area in the name of Rahul Gandhi and Priyanka Gandhi."
Referring to a report by The Indian Express, Patra added that "This property was rented out to a scamster by Rahul Gandhi. Corruption and Congress party are synonymous.ANI added."
Congress' spokesperson Randeep Surjewala has said, "There was no question of any association or relationship or any intervention having been made by Sonia Gandhi, Rahul Gandhi and Priyanka Gandhi Vadra in any ongoing proceedings either against FTIL or Jignesh Shah or any other person or entity related to them."
Surjewala added that, "facing imminent defeat in the election going States, overall rejection of PM's leadership and policies as also complete failure to tackle the all round distress on various fronts of economy — agriculture — jobs has pushed Modiji to seek to divert people's attention by running such smear campaigns," as reported by The Indian Express.
Now, the investigation by the Enforcement Directorate and other watchdogs of the government will reveal further information and to add on, Christian Mitchel, the middleman of the VVIP chopper scam has been extradited to India.
Also read: Lok Sabha Election 2019: Opposition leaders to meet today to discuss path for the 'Mahagathbandhan', AAP to
Sambit Patra, BJP: According to the news reports, we have come to know that there is a lavish farmhouse in Delhi's Mehrauli area in the name of Rahul Gandhi and Priyanka Gandhi. pic.twitter.com/8nEGVUy3sv

— ANI (@ANI) December 10, 2018
Sambit Patra, BJP: This property was rented out to a scamster by Rahul Gandhi. Corruption and Congress party are synonymous. https://t.co/8FnpLPzCs2

— ANI (@ANI) December 10, 2018