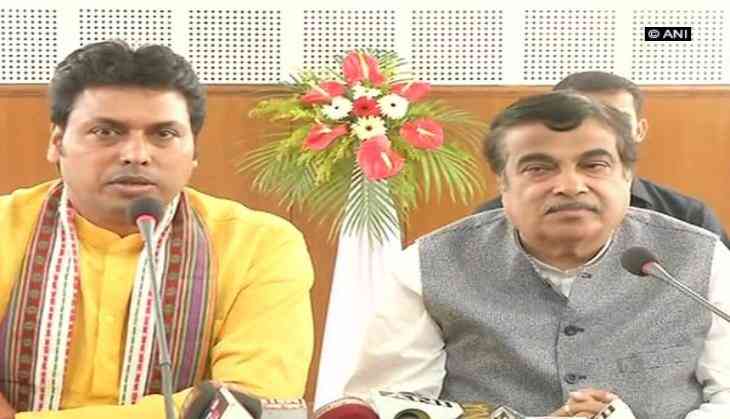 Biplab Kumar Deb has been announced as the Chief Minister of Tripura and Jishnu Kumar Deb as the Deputy Chief Minister on Tuesday.
The announcement was made by Union minister Nitin Gadkari at the state guesthouse in Agartala.
"Biplab Kumar Deb to be the chief ministerial candidate for Tripura," Union Minister Nitin Gadkari told media.
The Union Minister further thanked the people of Tripura for their massive support.
"I would like to thank the people of Tripura that they have trusted the Bharatiya Janata Party (BJP). I believe under Biplab Kumar Deb's leadership Tripura will march towards progress," Nitin Gadkari added.
"Jishnu Deb Burman will work with me as the deputy CM of Tripura," informed Biplab Kumar Deb.
Speaking to ANI, Jishnu Deb Burman said the party will work together to take Tripura on the path of development and will make it No. 1 state.
"I am elated. I, Biplab Ji with all the MLAs will work together to take Tripura on the path of development and will make it No. 1 state. Education, health and rural and tribal development are the biggest issues here which need stress," he added.
Meanwhile, Tripura is witnessing post-poll incidents of violence following the ouster of the Manik Sarkar government in the state.
In the wake of the sporadic violence, Section 144 has been imposed in several areas, prohibiting the assembling of four or more people.
On Monday, in Belonia town, BJP workers and supporters have allegedly brought down a statue of Lenin with the help of a JCB.
The BJP and its ally on Saturday scripted history by ending the 25-year reign of the Left Front led by the Communist Party of India (Marxist) with a two-thirds majority in the Tripura legislative assembly elections.
The BJP won 35 of the 59 seats that went to polls in Tripura, ousting the Left which had been in power for 25 years.
--ANI