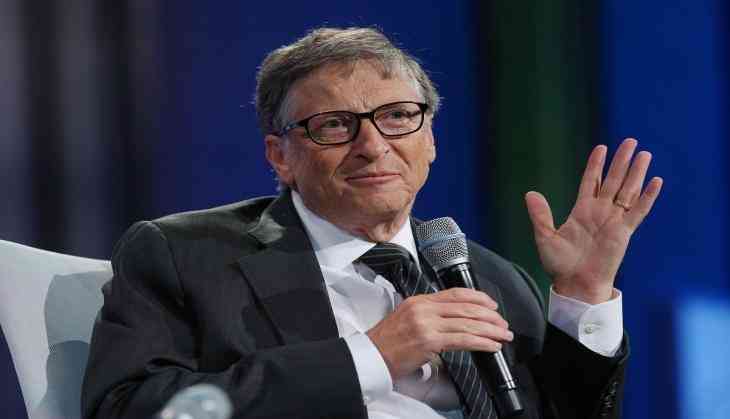 The world's richest man, Bill Gates, recently visited India and it seems like he was in the awe of the country.
Gates on 1 May tweeted an image of himself travelling in an auto-rickshaw around the India Gate. His tweet read, "I try to visit India at least once a year. I'm inspired by something new every time."
The tweet praising India has been welcomed on the internet with open arms. It has garnered over 14,000 likes and 4,000 retweets so far.
I try to visit India at least once a year. I'm inspired by something new every time: https://t.co/lKUrPiffeI pic.twitter.com/Lp8Do3mh0a

— Bill Gates (@BillGates) May 1, 2017
The business man toured India and wrote about his trip on his blog 'Gates Notes'. He heaped praises for Prime Minister Narendra Modi and also his 'Swachh Bharat' abhiyan (Clean India movement). Gates also talked about initiatives being taken the government to make India open defecation free.
"Nearly three years ago, Indian Prime Minister Narendra Modi made one of the boldest comments on public health that I have ever heard from an elected official. It's still having a big impact today.
He made the comment during his first speech to the nation commemorating India's Independence Day. Modi said: "We are living in the 21st century. Has it ever pained us that our mothers and sisters have to defecate in the open?... The poor womenfolk of the village wait for the night; until darkness descends, they can`t go out to defecate. What bodily torture they must be feeling, how many diseases that act might engender. Can`t we make arrangements for toilets for the dignity of our mothers and sisters?"
I can't think of another time when a national leader has broached such a sensitive topic so frankly and so publicly," wrote Gates in his blog.
"Even better, Modi backed up his words with actions. Two months after that speech, he launched a campaign called Clean India ("Swachh Bharat" in Hindi), which now includes ending open defecation nationwide by 2019, installing 75 million toilets throughout the country—75 million!—and making sure that no untreated waste is dumped into the environment." he business man added.