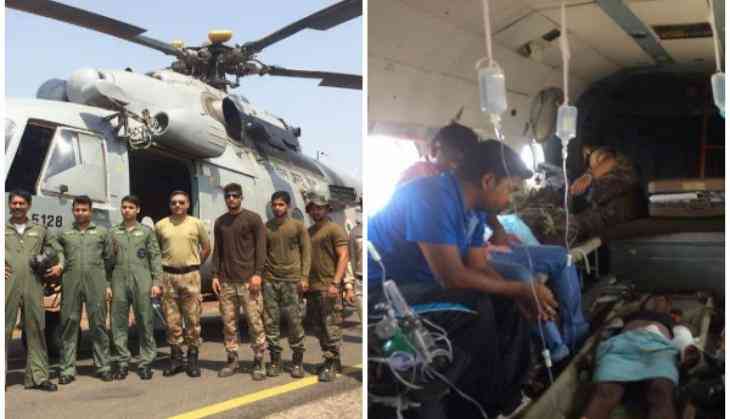 Bijapur Naxal encounter: STF jawan succumbs to injuries (ANI)
Special Task Force (STF) jawan, Sanad Upadhyay who was injured in yesterday's encounter that broke out between the security forces and Naxals in Chhattisgarh's Bijapur, succumbed to his injuries today.
The encounter took place in the Timarpur jungles under Bijapur District in Chhattisgarh between Naxals and a joint team of 204 Cobra (CRPF) and DRG (Chhattisgarh Police).
A Mi-17 Helicopter had landed at a field in a jungle area in the midst of an active encounter area to evacuate the jawans and brought them to Raipur.
Air Commodore Ajay Shukla of the Anti-Naxal Task Force (ANTF) told ANI that the operation was very difficult as the helicopter landed in the jungle area and high threat zone close to the ongoing operations area.
"Mi-17 was providing security from the Air and one was involved in evacuating. As there was no helipad the Mi-17 landed in the jungle which was the high-risk mission and a daring operation as it is a naxal prone area," he added.
"Information was received in an exchange of fire between DRG troops and Naxals at a location near Basaguda in Bijapur district of Chhattisgarh. It was reported that two DRG jawans had sustained serious injuries and required urgent evacuation. The area was a high threat zone close to the ongoing operations area. Since the nearest helipad for Mi-17 ops was a long distance away, a decision was taken to launch two helicopters with one functioning as an airborne escort for protection," Shukla said.
He further said that the most notable aspect of the mission was the quick response of the IAF in undertaking a very high-risk mission in an active operation area by landing at a field close to where the casualties were and not a secure helipad that is the usual norm.
-ANI