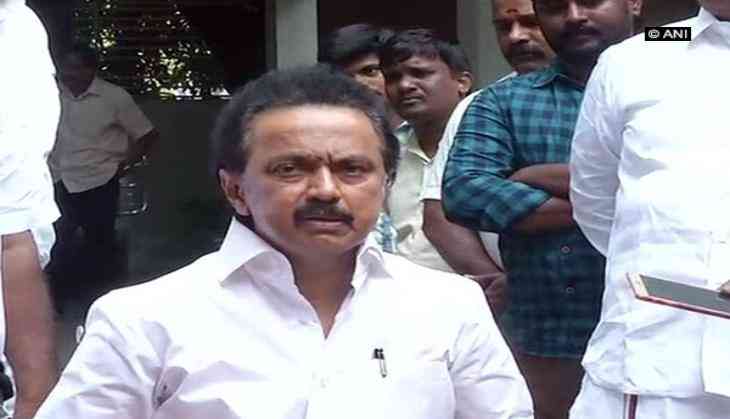 The government today appointed Nageshwar Rao as the interim chief of the CBI, which has been at the loggerheads from a couple of days over the bribery scandal.
After all the drama and sequence over the alleged corruption allegations over Alok Verma's deputy and special director Rakesh Asthana, the case has been now dragged to the courts. Alok Verma today approached the Supreme Court against the decision of his removal from the post and sending him on leave.
Today, the DMK chief in a conference said "Several complaints were sent to CBI director against Nageshwar Rao and there are reports that the CBI director Alok Verma wanted to initiate investigations into allegations against him."
The Opposition has alleged that the director Alok Verma was moving forward with the investigations in the Rafale jet deals, where BJP has been in the center of controversies for several reasons and Stalin alleged that with such appointments, CBI will always remain as a caged parrot.
"Is this move initiated to cover up Rafale scam investigations. This shows an undeclared emergency has been imposed in our country. Appointment of controversial officer like Nageshwar Rao is nothing but to ensure that CBI remains the caged parrot of the BJP government," said MK Stalin.
Several complaints were sent to CBI director against Nageshwar Rao and there are reports that the CBI director Alok Verma wanted to initiate investigations into allegations against him: DMK Chief MK Stalin on Nageshwar Rao appointed as CBI interim director. (File pic) pic.twitter.com/K4oe8IoPw4

— ANI (@ANI) October 24, 2018
MK Stalin said that the interim director Nageshwar Rao had met the current CM of Tamil Nadu E Palaniswami, when Madras High Court had ordered a an inquiry by the CBI. "Nageshwar Rao met OPS at the state secretariat. When CBI is investigating Gutkha scam & MHC has ordered an investigation against EPS for awarding contracts to his relatives, the move to send CBI director Alok Verma has raised suspicions."
Also read: Passenger boat carrying Maharashtra chief secretary and 20 others capsizes off Mumbai coast; rescue operations