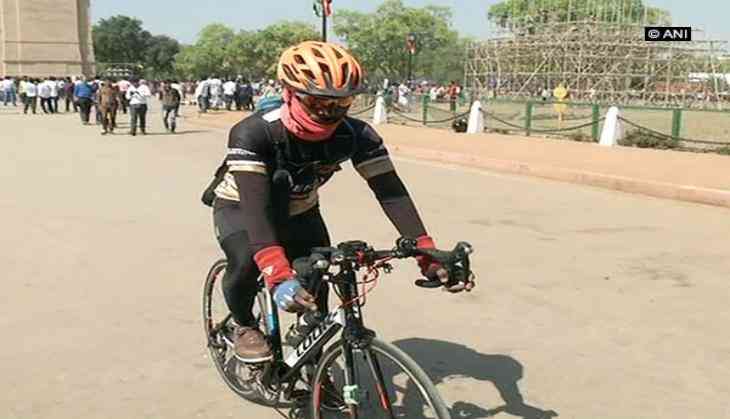 Amidst all the chaos and defame the Bastar community of Chhattisgarh has seen so far, a man with the motive of the restoration of peace has emerged.
A 42- year -old police constable Banshi Lal Netam from Bastar set off on a cycle ride from Delhi's India Gate on Monday.
Netam set out from India Gate on a 6,000-km cycle ride along the Golden Quadrilateral.
Within 20 days he will be travelling to states of Rajasthan, Gujarat, Maharashtra, Tamil Nadu and Karnataka and then return to Delhi.
He wants to spread the message of peace, especially in the Naxal-hit region and create a Guinness World Record with this cycle ride.
He also wishes to open a Sports Hub fully facilitated with adventurous sports and activities for the kids of Bastar District, especially from the rugged zones.
"My main motive is to feature in the Guinness World Record, Golden book world record.Then I want to open a hub of adventurous sports in Bastar and help the youth of Bastar use this opportunity fully.Like cycling, mountaineering, para mountaineering, horse riding.Helping the kids of Bastar is my main motive," Netam told ANI.
With his aim clear of spreading Peace, Netam desires to make Bastar known by epithets other than "conflict zone".
"When I go on the tour and meet different people I have just one aim. You must have heard about Bastar. Hence spreading Peace in Bastar would be my message," he further added.
According to reports, Netam has been preparing for a year and a half for this ride.
He practised by cycling every day for about 350 km.
--ANI