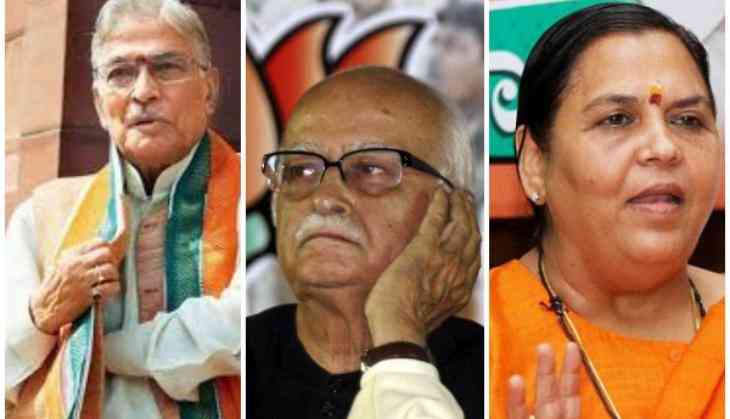 The flattening of the Babri masjid in Ayodhya on 6th December, 1992, was not premeditated and involved "anti-social elements", a special court in Uttar Pradesh said today, acquitting all 32 accused which included BJP leaders LK Advani, Murli Manohar Joshi and Uma Bharti.
"The accused tried to stop the demolition," said CBI judge SK Yadav, further adding that the Hindu activists who razed the 16th century mosque were "anti-social elements".
Here's the top cheatsheet:
* LK Advani, MM Joshi, and Uma Bharti were not in attendance in court and witnessed through video link when the verdict was put out. They had all been accused of criminal conspiracy, promoting enmity and stirring violence with provocative speeches. LK Advani said he celebrated the "moment of joy" by incanting "Jai Shri Ram".
* "Anti-social elements demolished the structure. The accused leaders tried to thwart these people," said the judge. The judge also stated that the audio and video evidence produced by the CBI did not prove conspiracy charges. "The audio of the speeches was also not clear," he stated.
* The Demolition was started by a spate of Rath Yatras organised LK Advani, whose campaign for a Ram temple at the site propelled the BJP to the centre stage. LK Advani, MM Joshi, Uma Bharti and Kalyan Singh, who are among the 32 surviving accused, were allegedly there near the mosque. Probe agencies further stated that they delivered speeches that incited the crowds.
* Then UP Chief Minister Kalyan Singh. Former Union minister Uma Bharti, who was tested positive for coronavirus, had declared she would not seek bail if she was convicted and she would accept any punishment.
* LK Advani recorded his statement before the special CBI court via video conference on 24th July. He was asked 100 questions. Both he and MM Joshi denied charges against them.
* The 16th century mosque was demolished by thousands of "Kar Sevaks" who believed it was built on the ruins of an ancient temple that marked the birthplace of Lord Ram in Ayodhya. The incident gave rise to riots that saw 3,000 people dead and altered India's political perspective for good.
* Over the last 28 years, the case has seen many turns. Two cases were filed in 1992, which eventually grew to 49. The second case, FIR no 198, had named LK Advani, MM Joshi and Uma Bharti for encouraging religious fraction and provoking rioting. Later, the Supreme Court of India asked that criminal conspiracy charges be restored against them.
* In a landmark judgement in November, the Supreme Court handed over the site claimed by both Hindus and Muslims for the building of a Ram temple.
* The top court also called it "unlawful destruction" and said Muslims had been wrongly deprived of a mosque that was made over 400 years ago. "It is necessary to provide restitution to the Muslim community for the unlawful destruction of their place of worship," the top court said, ordering an alternative site in Ayodhya for a mosque.
Also Read: Murli Manohar on Babri demolition verdict: Court's decision proves no conspiracy was hatched for Dec 6 incident in Ayodhya