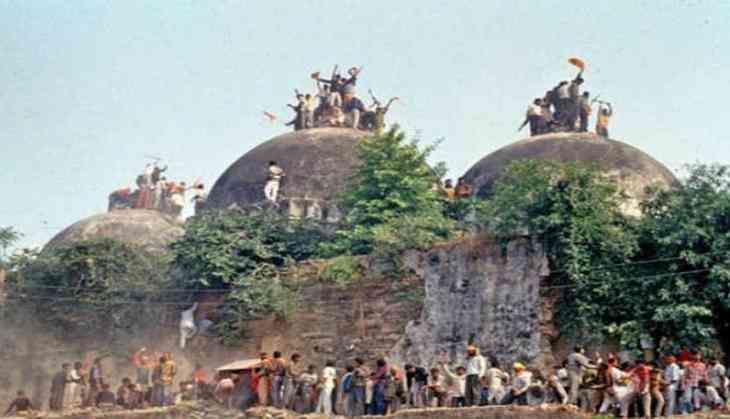 Babri Masjid demolition (Patrika)
After the proposal of out of court settlement presented by the former Chief Justice of India Justice JS Khehar, now the apex court said on Wednesday, March that it will not appoint anyone to settle the issue out of court neither it will rule out the possibility of resolving the issue out of court.
"We can't ask anyone to settle&we can't say no to settlement. If lawyers of both sides stand up&tell us they've settled the issue, we'll record it. We can't appoint or suggest anyone for settlement. How can we do this in a case like this: SC on out of court settlement?" ANI quoted the SC bench as saying.
Recently when religious heavyweights from both communities Hindu and Muslims Shri Shri Ravi Shankar and Salman Nadvi called for resolving the issue out of court, they faced huge backlash for suggesting so.
On the other hand, the court also dismissed all the intervention applications filed in the Babri Masjid-Ram janmbhoomi case. It further directed to the Registry not to entertain any more interim pleas filed by any third party.
Last year, the Bharatiya Janata Party leader Subramanian Swami had filed an intervention application. Now since the application has been dismissed, it will be heard as writ petition. Swami intervened in the issue by invoking fundament right of Hindus right to religion guaranteed under the article 25 of the constitution.
Apart from Swami's application, there were as many as 32 intervention applications in the case including the application of social activist Teesta Setalvad'. A special bench comprising Chief Justice Dipak Mishra, Justice Ashok Bhushan and Justice Abdul Nazeer was to hear the case in February but it was deferred on 14 March.
On 6 December 1992, thousands of karsevaks who gathered in Ayodhya from across the country, demolished the Babri Masjid at the presence of security forces. The karsevaks claimed that at the place where the mosque was situated was the temple in the name of Ram lord. Since then, the case is languishing in the court over 25 years. Recently the apex court said that it will hear the case only as a title suit not a matt of faith.