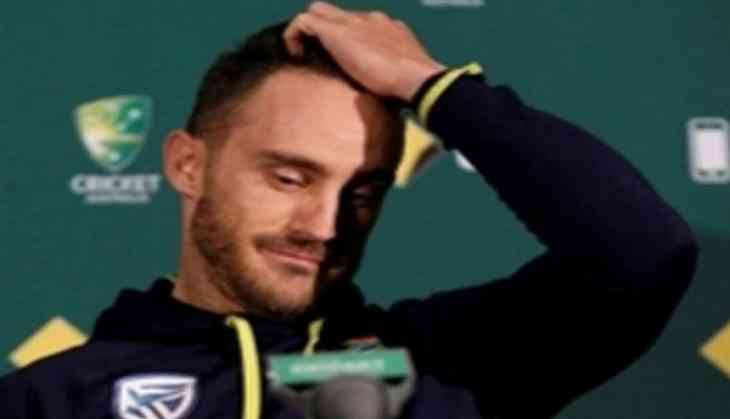 Ahead of their upcoming Australia tour, South African skipper Faf du Plessis has stated that the former is their favourite team to play against.
The 34-year-old further praised the Australian side saying that they bring the best out of their team.
"Australia is our favourite team to play against. All the stuff that comes with playing them, on and off the field, I love that and I feel that brings the best out of us as a team and even us as South Africans, we love that fiery competition," the International Cricket Council (ICC) quoted du Plessis, as saying.
The two sides will be playing their first bilateral series since the massive ball-tampering scandal, which led to the suspension of former Australian skipper Steve Smith and his deputy David Warner, during a Test match at Cape Town in March.
The right-hand batsman also admitted that the tour is not going to be easy one for the players, especially for the youngsters. Highlighting the nature of crowd in Australia, he said that one needs to be mentally tough to survive in those conditions.
"It's definitely not an easy place to travel. The crowds do play their part, they're like a 12th man. Your mental capabilities and strength are just as important as your skill," he said.
"For a lot of the new guys, it will be the first time where they field on the boundary and they hear just how good they are as human beings. That will be a new thing for them," du Plessis added.
Speaking about Chris Morris' return in the South African limited-over format squad, du Plessis maintained that the tour would be crucial for the all-rounder to get back to consistency in white-ball cricket.
"He's got so much X-factor as a white-ball cricketer, and this is an important tour for him to make sure he starts getting it right in terms of consistency. We know on his day he's as good as any player in the world," Plessis said.
South Africa and Australia are slated to play a three-match ODI series and one-off T20I from November 4 to 17.
-PTI