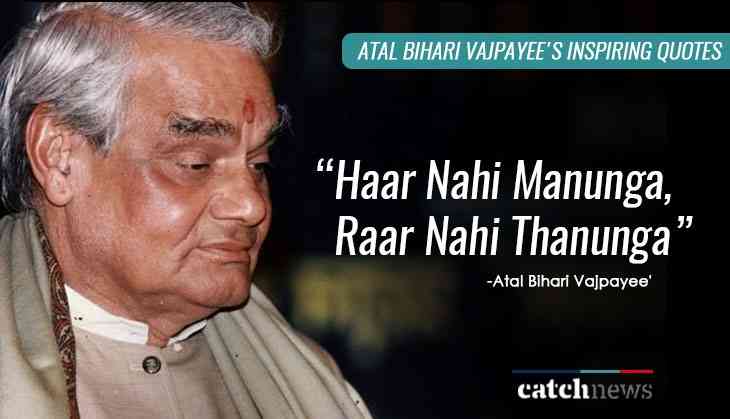 Former Prime Minister and veteran leader Atal Bihari Vajpayee is one of the finest and meaningful politicians we have. with his an orator par-excellence, he is BJP's tallest leader. However, unfortunately, he is admitted in AIIMS hospital in New Delhi since 11 June and now his health condition has been deteriorated. The 93-year-old BJP veteran Vajpayee's health condition has worsened over last 24 hours, said AIIMS on Wednesday late evening.
The official statement released by the AIIMS hospital sad that the veteran leader's condition is really critical and has been put on a ventilator. The veteran BJP leader and spirited politician is now fighting a hard battle and the whole country is praying for him and also people across the country.
So here are some of the inspiring quotes by Atal Bihari Vajpayee, a poet by heart
-"Mere Prabhu! Mujhe itani oonchaai kabhi mat dena, Gairon ko gale na lagaa sakoon, Itani rukhaai kabhi mat dena"
-" Kyon na main kshan kshan ko jioon? Kan-kan mein bikhare saundarya ko pioon?"
- "Hone, na hone ka kram, Isi tarah chalta rahega, Hum hain, hum rahenge, Yeh bhram bhi sadaa paltaa rahega"
- "Haar nahi manunga, raar nahi thanunga"
-"Swayam ko doosron ki drishti se main dekh paataa hoon, na main chup hoon na gaataa hoon"
-"Truth cannot be hidden for fear that somebody would exploit it"
- "You can change friends but not neighbours"
- "Maut ki umra kya hai? Do pal bhi nahi, zaindagi silsila, aaj kal ki nahi"
-For me, power was never an attraction.
-My poet's heart gives me the strength to face political problems, particularly those which have a bearing on my conscience.
Also read: Atal Bihari Vajpayee Poems: Not only through politics but our Bharat Ratna won people's hearts through his amazing couplets