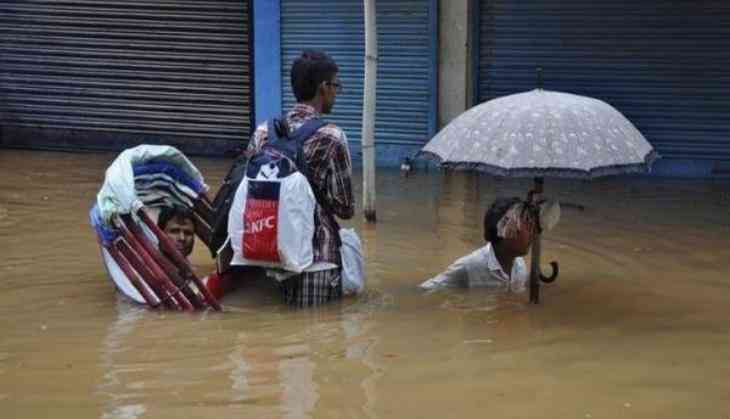 Assam floods: Roads blocked to prevent further hazard (ANI)
With the flood situation deteriorating in Assam, various roads have been blocked to prevent any further damage to civilians and properties.
Roads are blocked in between Sagalee and Doimukh, Doimukh-Hoj-Potin, Kimin and Potin within five kilometres and also in other location.
According to reports, there are chances of restoration this afternoon.
Vehicles are playing till now from Naharlagun to Hollongi and Doimukh to Gumto.
Township areas including Nirjuli, Bage Tinali road and Pachin Colony have turned into a river like situation.
There is a river like situation on the highway as well.
Borapani Bridge, which is alone lifeline of twin city and a 'chicken neck' for all entry and exists points of the vehicles, is in danger zone.
There are also chances of a collapse in anytime if 18 wheels trucks and above with huge loading continue to cross over Pachin-Borapani river, which is flowing over danger points.
If the heavy rain continues its furious charge, there are chances of any kind of natural calamities in the region shortly.
Over four lakh people have been affected so far in the state.
With a total of 15 districts affected including Lakhimpur, Jorhat, Golaghat, Cachar, Dhemaji, Biswanath, Karimganj, Sonitpur, Majuli, Barpeta, Nagaon, Nalbari, Sivasagar, Marogain, Chirang, the state is in total grip of heavy floods.
Earlier yesterday, a person lost his life in Karimganj district, taking the death toll due to floods to 25.
Assam Chief Minister Sarbananda Sonowal informed that Prime Minister Narendra Modi has assured full support to the state.
"The Prime Minister has assured us full support and we are thankful to him for his great gesture and kind support," Sonowal told ANI.
The situation has made the State Government open 128 relief camps with the Chief Minister taking stock of the situation.
On July 5, nearly four lakh people reeled under the fury of the flood at 13 districts caused by incessant rains in Assam, according to official sources.
The flood water has submerged the low-lying areas of the Kaziranga national park.
Meanwhile, several rivers were still continuously showing a mounting trend.
Ferry services between Guwahati and North Guwahati has been suspended for the time being as the Brahmaputra is maintaining an increasing trend.
State Disaster Response Force (SDRF) has already evacuated 400 students to safer places at Nalbari district.
On July 3, flood claimed the life of one in Lakhimpur district.
Some of the worst affected districts were Karimganj, Lakhimpur, Golaghat.
Nearly 24 thousand people are taking shelter in 108 relief camps.
Relief materials like drinking water and rice are being distributed and the medical teams were also deployed in flood-hit areas.
Cattle stock, houses, infrastructures including roads and culverts and agriculture land are deluged due to floods. (ANI)