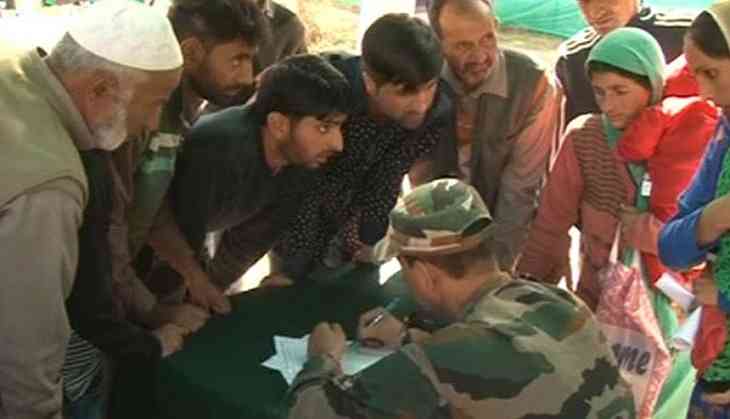 19 batch Rashtriya Rifles of the Indian Army on 18 October organised 'Jashn-e-Breng' festival in Kokernag village of the Anantnag district to promote peace and brotherhood between security forces and the local population.
With the slogan of "Jawan aur Awaam Amun Hai Muqam" ( Army and Locals together, peace will prevail ), the soldiers arranged free medical assistance and several cultural programmes for the Kokernag public.
The camp was occupied with several stalls including those of agriculture, horticulture, and Veterinary. Specialised doctors from Army and government hospitals gave free check-ups and medicines to the visitors. They provided wheelchairs to specially abled and ear machines to deaf persons.
Students participated in cultural programmes at the event attended by GOC P.S Raju, Commander RR, DC Anantnag and several other District officers.
Local residents hailed this step taken by the army and said it will bridge the gap between Jawan and Awaam.
"The Army has provided wheelchairs and other gadgets to the specially abled person, thus fulfilling its purpose of sending the message of brotherhood to the aawam," a local participant said.
Another local participant named Ghulam Rasool hailed the efforts taken by the Army and said the presence of people in the village has enhanced its beauty.
"Medical experts from the field of gynecology, veterinary, diabetology, and various other backgrounds are available at the camp. They also arranged local music to connect to the community and their efforts are receiving appreciation from the public," he said.
Hailing the Kokernag public, GOC P.S. Raju said that the festival is a gift for the hardworking and peaceful citizens who have helped in maintaining peace in South Kashmir.
A stall owner Arif Ahmad said that such events are very beneficial for the public and should be organised in frequent intervals.
-ANI