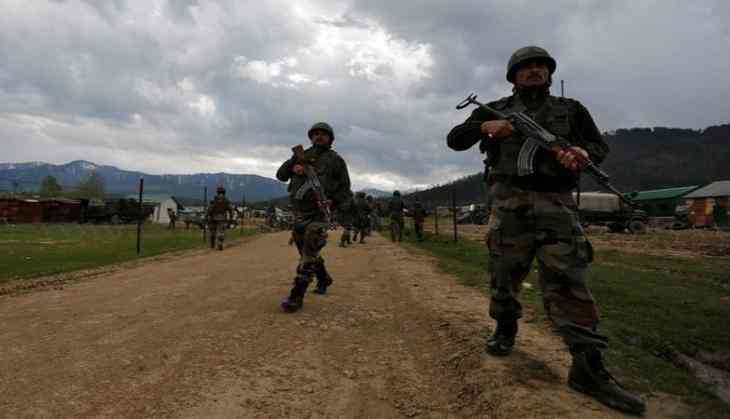 Three armed terrorist who broke into a house in Jammu and Kashmir's Ramban district have been killed. They had also taken hostage an aged person, who was the owner of the house.
Security forces have sealed off the area and traffic has been held off from Jammu as well as from Ramban. Locals have been urged to stay indoors as a safety measures.
Security forces are keeping a close tabs on the situation. Joint operations against terrorist have also been launched in Doda, Ganderbal and Ramban areas,.
Preliminary reports suggests three terrorist have broken into a house of Vijay Kumar, who is a tailor by profession. Other family members are out of the house.
AlsoRead:http://www.catchnews.com/india-news/watch-shivraj-singh-chouhan-lauds-madhya-pradesh-police-officer-for-her-kind-gesture-174380.html
On Saturday morning, an exchange of gun shots took place between the security forces and two terrorist along the Jammu-Kishtwar highway, following which a huge search operation was initiated in the area, official said.
The terrorists fired at the quick reaction team of the Army after a driver of a civilian vehicle informed the force about the presence of two suspicious individuals on the highway in Batote of Ramban district, leading to a brief exchange of fire, they said. "Today (Saturday) morning at about 7.30 am, two suspicious individuals tried to stop a civilian vehicle at the general area Batote on the highway. The driver was alert, did not stop the vehicle and rushed and informed the nearest Army post," an Army official said.
"The quick reaction team reacted promptly and contact was established with the suspicious individuals. An exchange of fire took place and further details are awaited," he added.
The Army official also stated that terrorists tossed a grenade and followed it by gun shots after noticing the quick reaction team at Dharmund village. Reinforcement team quickly hurried to the spot and sealed off the whole area to neutralise the suspected terrorist who tried to run away.