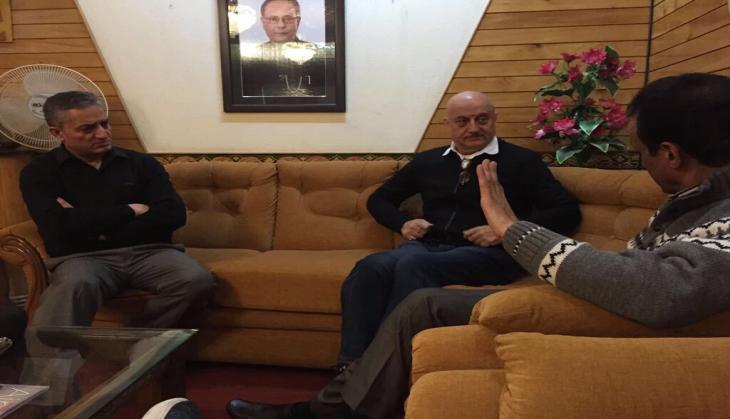 Bollywood actor Anupam Kher, who was on his way to the National Institute of Technology (NIT) in Srinagar, was stopped at the Srinagar airport by police officials, according to reports.
Anupam Kher is accompanied by filmmaker Ashok Pandit. They both will be deported back to Delhi by 2pm flight.
Earlier in the day, Kher told ANI that it is important to express solidarity and provide moral support to the students."I am visiting there at a personal level. It's a symbolic gesture as it is most important to show them solidarity. It's important to give NIT Srinagar students' moral support. I'm going there as a citizen to meet students," Kher told ANI.
In a tweet, Kher informed that he has been stopped by police and that he has demanded police to show him the corresponding orders. "I have been told by J&K police that I cannot enter Srinagar city at all. I have asked them to show me the orders. Still at the airport," he tweeted.
Following the action taken by Jammu and Kashmir police, social activist Ashoke pandit had tweeted, "Has Emergency being declared in Kashmir."
Has #Emergency being declared in Kashmir.Me & @anupamkher not allowed to visit #Kashmir.

— Ashoke Pandit (@ashokepandit) April 10, 2016
Here is how Twitter reacted to this incident:
Stopping Anupam Kher @AnupamPkher from visiting NIT Srinagar is ridiculous. He would have soothen the pain of non-Kashmiris there.

— SudhirBharg (@sudhirbharg) April 10, 2016
It's ridiculous that the UN hasn't asked Anupam Kher to sort out problems between Israel and Palestine yet.

— lindsay pereira (@lindsaypereira) April 10, 2016
No better options than Anupam Kher and Arnab Goswami for patriotic IPL commentator's job.

— Roflindian (@Roflindian) April 10, 2016
When Anupam Kher visits #NITSrinagar it's a publicity stunt? And Rahul Gandhi visits JNU out of concern? @AnupamPkher isn't in politics, btw

— Budhaditya Roy (@budhadityaroy) April 10, 2016
Anupam Kher cares about Kashmir and Kashmiri Pandits so much that he lives in Juhu and tweets about them constantly.

— lindsay pereira (@lindsaypereira) April 10, 2016
Anupam Kher was denied visa to Pak. Now he is denied entry into Srinagar. Intolerance is rising in the country.

— છેલ છબીલો ગુજરાતી (@sap_era) April 10, 2016
BJP govt stopped Anupam Kher from visiting NIT srinagar. Its like BCCI banning indian team from playing in wankhade. So confusing.

— kiduva (@kiduva) April 10, 2016