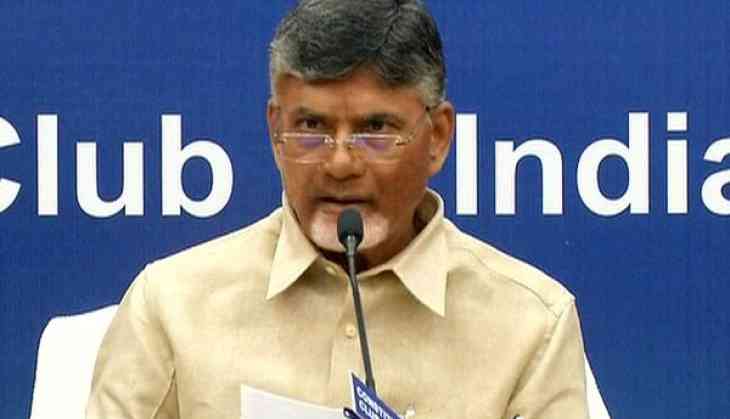 Andhra Pradesh Chief Minister N. Chandrababu Naidu has directed the officials of the Capital Region Development Authority (CRDA) to beautify Krishna river bunds downstream Prakasam Barrage in Vijayawada.
The Chief Minister suggested construction of a platform and national flag at the central point of river bed and beautification of bunds on both sides. He said that an atmosphere should be created to provide an opportunity for people to relax in the evenings.
While addressing review meeting of Amaravati CRDA on Thursday, the Chief Minister said, "Proposals should be prepared to beautify the bunds of Krishna River and three canals passing through the city."
A delegation led by business leaders' forum president Ram Buxani of UAE came forward to develop two islands of Krisha River. The forum of Ministry of Economy UAE and Indian Embassy and Consulate General in UAE offered proposals to develop PGA state Golf Court, Hotel complex, Convention centre, recreation villas and apartments in nearly 500 acres of both the islands. Later they signed a MoU with the Andhra Pradesh Government.
The Chief Minister asked them to come back with proposals and made it clear that the project should be completed in a time-bound manner. The officials informed Naidu that there is a chance to develop seven islands in Krishna River out of total 14 islands.
Later, the CRDA commission Ch Sridhar said that there was a good response to Amaravati bonds. He explained about nine cities proposed in Amaravati capital and the development of Amaravati from a media city to a world-class media hub with a long-term vision to host international events like Cannes film festival, Grammy awards, e-Sports world cup.
Referring to film and TV development, cine producer D Suresh Babu said cultural and emotional entity should be provided by encouraging local talent here. He said that the government should extend their support for the development of world-class film and TV training institutes in Amravati capital. Describing Amravati as the most beautiful and liveable city of future, he said once the movie-friendly atmosphere created here it would attract cine industry.
Stating that the role of media city has changed, Naidu said that content preparation plays a key role in all sectors at present. He said that the producers should come forward for film production in Andhra Pradesh as abundant local talent and picturesque locations are available here. The Chief Minister suggested the appointment of nine committees with experts of the respective fields for the development of nine cities of Amravati.
--ANI