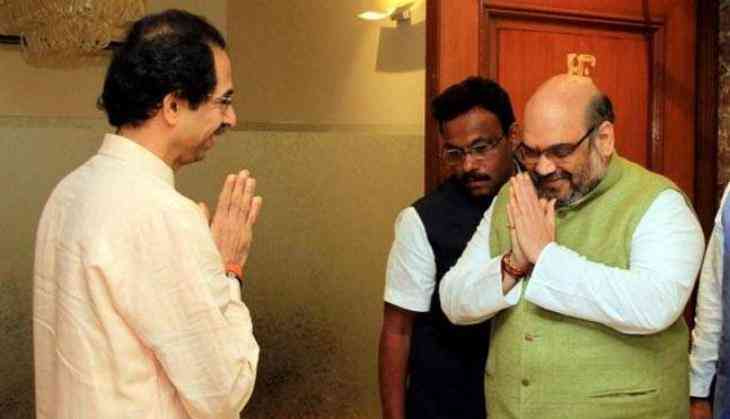 Bharatiya Janata Party (BJP) president Amit Shah and Shiv Sena Chief Uddhav Thackeray held a 'positive' meeting at the latter's residence 'Matoshree' in Mumbai, said BJP sources on Wednesday.
"Meeting between BJP and Shiv Sena at 'Matoshree' was positive. This is the beginning of reducing tensions between both the parties. Two or three meetings are expected to happen in the coming days," BJP sources told ANI.
Shah on Wednesday met Thackeray as part of the ongoing 'Sampark for Samarthan' (Contact for Support) campaign.
Maharashtra Chief Minister Devendra Fadnavis was also present during the meet.
In the recent past, differences have cropped up in the BJP-Shiv Sena alliance in Maharashtra.
In this regard, Fadnavis clarified that although there was no plan to dissolve the alliance, mutual efforts were essential for sustaining ties.
Launched in May this year, the Sampark for Samarthan initiative has devised to generate awareness about the Prime Minister Narendra Modi-led government's achievements in the last four years.
In the run-up to the 2019 Lok Sabha polls, Shah will reach out to 50 people personally with details of initiatives and achievements of the government, whereas each BJP worker is expected to contact at least 10 people.
There will also be a special session of 'Sampark for Samarthan' on the NaMo App.
(ANI)