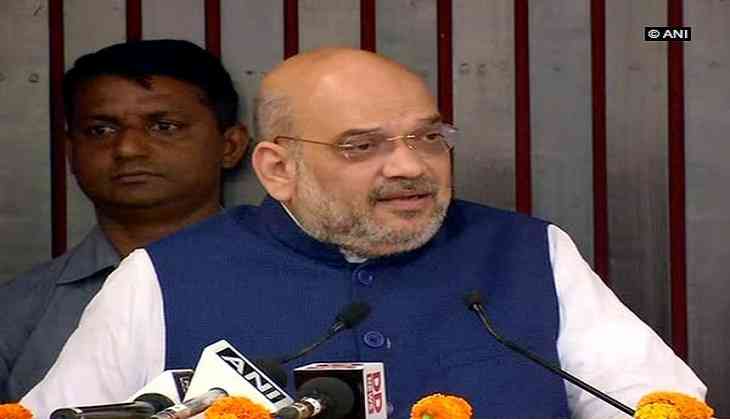 BJP president Amit Shah arrived here Saturday on a day visit to Kerala to attend a party function in the city and the 90th Mahasamadhi observance of social reformer Sree Narayana Guru at Varkala near Thiruvananthapuram.
Hundreds of party workers gathered to welcome Shah, who became the first passenger to land at the Kannur International Airport, slated for official inauguration on December 9.
Shah will inaugurate the party's new district office located at Thalikkavu, the party sources said.
He would also visit the family members of slain BJP activist Remith, who was killed allegedly by the activists of CPI(M) in 2002.
Later in the day, Shah will attend the 'Mahasamadhi Navathi Yathi Pooja Sammelan' at Sivagiri, a hillock spiritual mutt established by Narayana Guru in Varkala near Thiruvananthapuram.
Shah's Kerala visit assumes significance in the wake of massive protests against the CPI(M)-led LDF government's decision to implement the Supreme Court verdict permitting women of all age groups into the Sabarimala temple.
The BJP in the state has extended full support to the agitation led by devotees of Lord Ayyappa to protect the age-old tradition of the shrine.
The state had witnessed massive protests from devotees at various places, including Sabarimala, Nilakkal and Pamba, against permitting women of all ages to enter the shrine, where the deity is 'Naishtika Brahmachari' (perennial celibate), when the temple was opened for monthly poojas from October 17-22.
-PTI