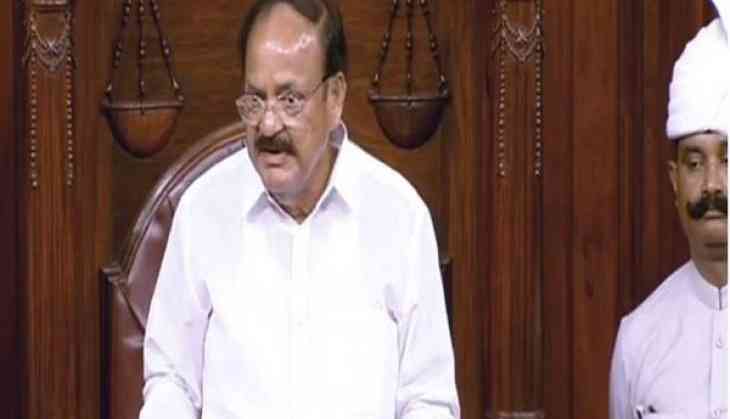 Rajya Sabha chairman Venkaiah Naidu on Wednesday urged members to let the House function smoothly. His appeal came following yesterday's disruptions that led to adjournment of the House for the day when the Congress MPs walked up to the well in protest.
Naidu said, "I was very upset yesterday when some members ran menacingly towards the well of the House. I hope it will not be repeated. I don't want to name anybody, House should function smoothly."
On Tuesday, Bharatiya Janata Party (BJP) president Amit Shah, in his speech during the discussion on the Assam National Register of Citizens (NRC) draft list, dragged former Prime Minister Rajiv Gandhi's name in connection to the Assam Accord. No sooner did he mention the name, the Congress MPs walked up to the well of the House in protest causing a din.
Shah had said, "Rajiv Gandhi signed the Assam Accord in 1985, which was similar to NRC. They did not have courage to implement it, we did."
Today, there was once again uproar in the upper house today when Naidu asked Shah to conclude his statement from yesterday on the issue. The House had to be adjourned till 12 O'clock.
The Opposition has been all out to attack the ruling party following the release of the second and the final NRC draft list. The first draft was published on December 31, 2017, and names of 1.9 crore of the 3.29 crore applicants were incorporated.
The final list, released on Monday, left out nearly 40 lakh people, incorporating names of 2.89 crore people out of 3.29 crore applicants.
Congress president Rahul Gandhi had said, "There are reports pouring in from all corners of Assam of Indian citizens finding their names missing in the draft NRC, creating massive insecurity in the state. Clearly, after spending close to Rs 1,200 crore, the execution of this critical and highly sensitive exercise has been tardy. The government must move swiftly to resolve this crisis."
However, Home Minister Rajnath Singh has already given a statement urging political parties not to politicise such a sensitive issue.
Speaking in the Lok Sabha, the Home Minister had said, "I want to ask the Opposition, what is the Centre's role in this? It is happening under the supervision of the Supreme Court. Such sensitive issues should not be politicised."
--ANI