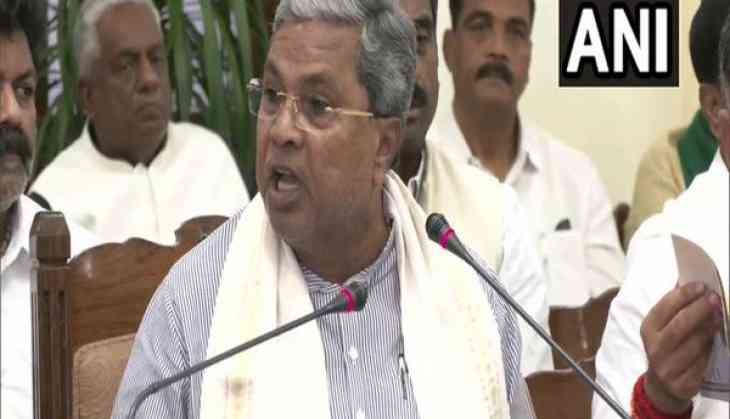 Karnataka Chief Minister Siddaramaiah
Bengaluru (Karnataka): Karnataka Chief Minister Siddaramaiah who chaired a Cabinet meeting on Friday said that the five guarantees promised by the Congress ahead of Assembly elections will be implemented in the present financial year.
"We held a cabinet meeting today. We discussed all five promises thoroughly. We have decided that all five guarantees will be implemented in the present financial year," Karnataka CM Siddaramaiah told reporters after the Cabinet meeting.
The five 'main' guarantees, which Congress promised to fulfil after coming to power in Karnataka, were 200 units of free power to all households (Gruha Jyoti); Rs 2,000 monthly assistance to the woman head of every family (Gruha Lakshmi); 10 kg of rice free to every member of a BPL household (Anna Bhagya); Rs 3,000 every month for unemployed graduate youth and Rs 1,500 for unemployed diploma holders (both in the age group of 18-25) for two years (Yuva Nidhi) and free travel for women in public transport buses (Uchita Prayana).
Adressing a press briefing, here after the Cabinet meeting, Siddaramaiah said that the implementation (of guarantee about 200 units of free electricity) will begin from July 1.
"A total of 200 units of electricity will be free. Consumers who haven't paid their bills till July will have to pay," he added.
On the Gruha Lakshmi scheme, which promises Rs 2,000 every month to every women 'kartha' of a family, will be implemented from August 15, the CM said.
The online application will be opened from June 15 to July 15. Beneficiaries will have to submit Aadhaar card and bank account details "June 15-July 15 Aadhar card and application need to be filed. Then from July 15-August 15 after analysing the bank accounts," he said.
The Congress Cabinet in the State touched its full strength of 34 on May 27 after the induction of 24 more ministers in the cabinet. The Karnataka Cabinet was expanded after the Chief Minister and Shivakumar held consultations with the party's central leadership. On May 20, Siddaramaiah took oath as the Chief Minister along with DK Shivakumar who took oath as his deputy. This was followed by the Siddaramaiah-led Congress government issuing the orders for the implementation of five guarantees which were promised by the party before the elections.
(ANI)