Congress senior leader Ahmed Patel has landed in controversy after a picture of him sitting with AICC officer, whose residence was being raided by the Income-Tax officials has emerged on Monday. According to reports, Patel rushed to visit the house of SM Moin in Delhi, where a raid is being conducted.
As per I-T department, the administrative officer SM Moin has received Rs 20 crore on Saturday from Bhopal, through hawala and transported the amount to the Congress's office. Following which he is under scanner and income tax department are conducting raids at his residence.
"A part of the cash was also transferred to the headquarters of a major political party in Delhi. Rs 20 crore was moved through hawala to the headquarters of the political party from the residence of a senior functionary at Tughlak Road, New Delhi," an Income Tax official said.
In the picture, the senior Congress leader can be seen sitting with AICC worker SM Moin.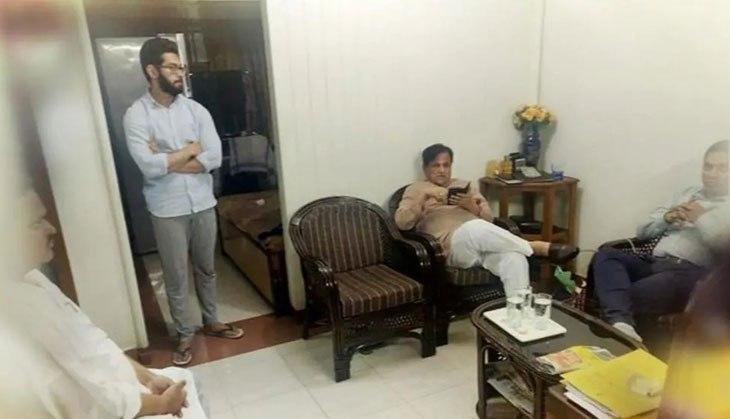 Following the Income-Tax raids, the Ministry of Finance have issued a press brief underlining the recent searches in NCR, Bhopal, Indore and Goa. Reportedly, more than 300 Income Tax officials participated in the raids at 52 locations in four states.
According to India Today, sources close to Ahmed Patel said that SM Moin works as a chief accountant at the Congress office and Patel went to see Moin at his residence when he did not come to the office.
The raids conducted by the IT officials in MP Chief Minister Kamal Nath's close aide and other leaders exposed 'widespread', 'organised' scam of unaccounted cash of about Rs 281 crore. According to IT- Department, it has seized included tiger skins, a few firearms, unaccounted cash amounting to Rs. 14.6 crore, 252 bottles of liquor.
Also read: IT raids unearth Rs 281 crore 'cash collection' scam in MP: Tax Officials