Shraddha wrote letter in 2020
With new revelations every day in the Shraddha Walkar murder case, a letter has surfaced that describes the victim's suffering from her boyfriend Aaftab Amin Poonawala's torture and abuse.
Shraddha allegedly submitted a letter at Palghar's Tulinj police station in 2020, complaining that Aftab Poonawala, the accused in her murder case, had assaulted her and threatened to kill her.
In the letter, Shraddha said that Aftab had been beating her and threatened to kill her. The victim further mentioned in the letter that she 'did not have the guts to go to the police' because her lover had threatened her life. Walkar also mentioned in the letter that the accused threatened to kill her, cut her body into pieces, and throw them away. "It's been six months he has been hitting me," the letter read.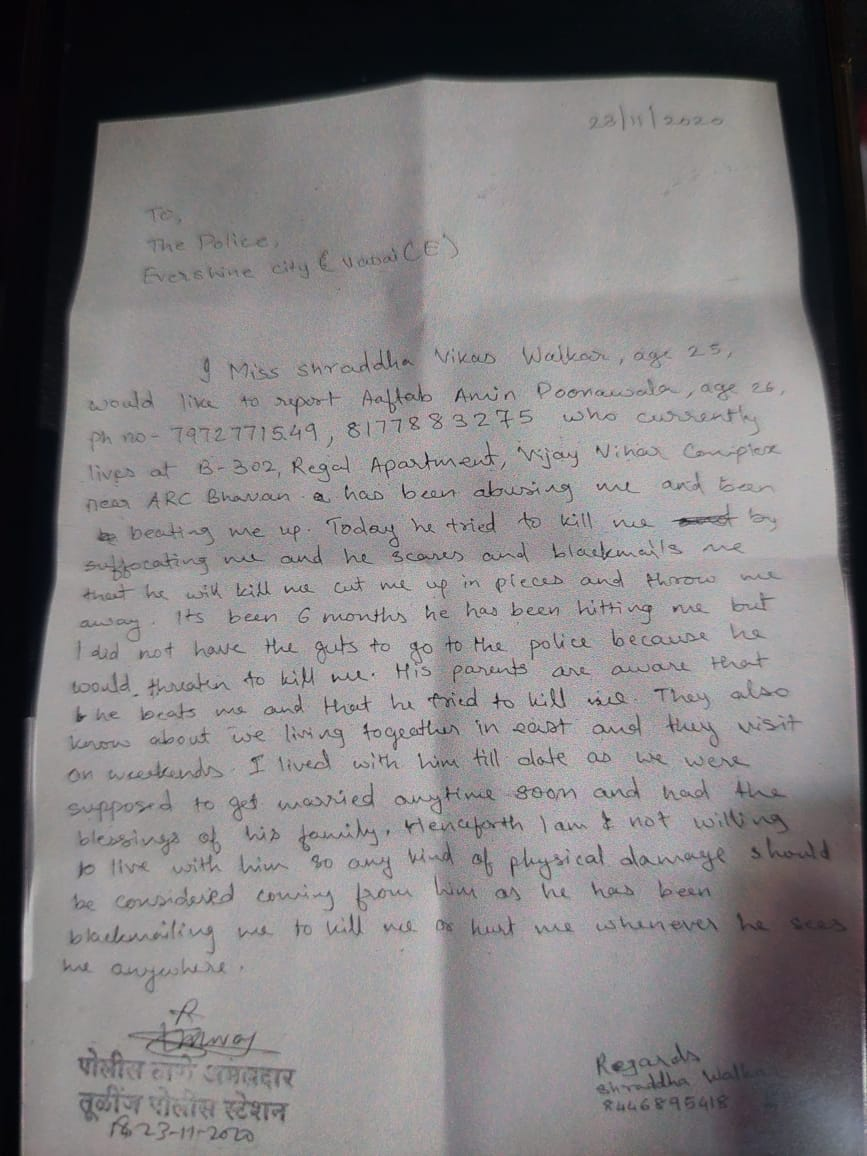 The letter in question has reportedly been shared by Shraddha's neighbour in Vasai with whom Shraddha had gone to file the complaint. The Maharashtra police have also confirmed that the deceased had written a complaint letter on November 23, 2020, at the Tulinj police station.
The mindset of Aftab can also be understood by the letter that he wanted to kill Shraddha, and he murdered her exactly as he had threatened her.
The letter also clarified that the accused's parents were aware of their relationship. They were also aware that their son had tried to kill the victim and beat her.
"I lived with him till date as we were supposed to get married anytime soon and had the blessings of his family. Henceforth, I am not willing to live with him. So any kind of physical damage should be considered coming from him as he has been blackmailing me to kill me or hurt me whenever he sees me anywhere," the letter read.
The letter surfaces a day after Aaftab on Tuesday told a Delhi court that he murdered his girlfriend in the "heat of the moment". Aaftab was produced before the Saket court in the national capital on Tuesday after his five-day police custody expired.
However, Apollo Hospital, Senior Consultant Psychiatrist, Dr Sandeep Vohra rubbished Aftab Poonawala's statement in Saket Court. "It cannot be a case of 'heat of the moment'," the top expert said.
Meanwhile, a court-sanctioned polygraphy test on Aaftab was initiated in the national capital on Tuesday.
Aaftab Poonawala was arrested by the Delhi Police after the complaint by Shraddha's father. Aaftab, who works at a call centre in Gurugram, confessed to strangling Shraddha Vikas Walkarand chopping her body into 35 pieces for over two days, storing them into a refrigerator (for three months) and dumping the body parts piece by piece in a forest near Chhattarpur and Qutub Minar.
The couple, who are both from Maharashtra, lived together in Vasai (West), Maharashtra, till February 2022. They then traveled to Himachal Pradesh and Uttarakhand before arriving in Delhi.