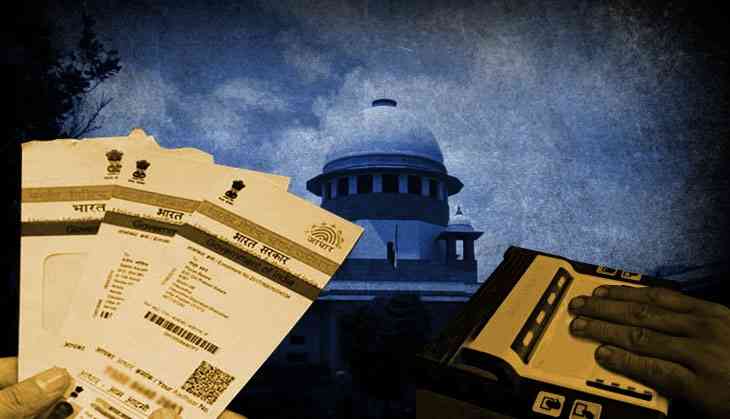 Supreme Court hearing Aadhar case (ANI)
As the Supreme Court gave a relief to the bank and mobile users by extending the deadline to link the Aadhaar to the bank account and mobile until the final judgment comes on the issue, the scheme beneficiaries has no relief. The poor, who takes benefits from the government schemes, has to link their ration and other cards to get benefits from the schemes.
"We direct that the interim order passed on December 15, 2017, shall stand extended till the matter is finally heard and the judgment is pronounced," said, a five-judge Constitution bench, headed by Chief Justice Dipak Misra. The apex court also said that the government will continue to seek the Aadhar biometric number from those who want to take benefitS from the government-funded schemes.
On the social media, many were quick to react on this Supreme Court order's to extend the deadline and asked that why the poor were not given relief from the Aadhar linking despite the fact that they face more hardship in linking it?
"Isn't the order very discriminatory? Why should poor people face exclusion because of Adhaar being mandatory whereas we the vocal middle class are spared?," said Gujarat-based social activist Nirjhari Sinha.
Many people in poor sections who could not link their ration card to the Aadhar card were denied of their benefits. They have been struggling to acquire the government benefits. In fact in the last year, two deaths were reported of those who were denied of ration since they did not link their ration card to the Aadhar card due to facing hardships in doing so. In this backdrop, the question becomes extremely relevant and pertinent.
However, apart from the scheme beneficiaries, the Aadhar continued to be compulsory for opening bank account and applying tatkal passport. It is yet to be seen what will be the final judgment of the Supreme Court on the Aadhar linking case. The case is being examined from various perspectives of the law from the privacy to the government intrusion into the citizen's life.