Somi Das
| Updated on: 13 February 2017, 3:51 IST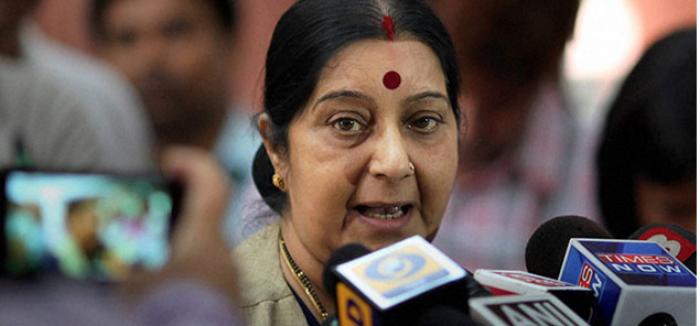 The Indo-Pak NSA level talks continue to remain in limbo with neither side willing to blink first.
Pakistan's NSA Sartaj Aziz, held a press conference in Islamabad at 1:30 this afternoon. Minister of External Affairs Sushma Swaraj followed suit with a presser in New Delhi. Neither called off the talks, but there was ample evidence of acrimony and disagreements on a range of issues.
Here's how the war of words played out between the two countries through the media and press conferences:
1. Kashmir issue
Sartaj Aziz: India is wrong in saying that Kashmir is not part of the agenda. Kashmir is very much part of the agenda as agreed in Ufa.
Sushma Swaraj: As per the Ufa agreement, NSAs were supposed to talk only on terror. Two other meetings were scheduled - one with DG BSF and Pak rangers on the issue of peace at the border, another of DGMOs to address the issue of ceasefire violations.
2. On ceasefire violations
Aziz: There have been 100 ceasefire violations in the last two months. Pakistani civilians have been attacked. Pakistan only fires in self defence.
Sushma: There have been 91 ceasefire violations from Pakistan's side, since the talks in Russia.
3. The Dossier
Aziz: I will be carrying three dossiers on India's RAW activities in Pakistan. If I don't get the opportunity to hand over the dossiers to the Indian NSA in New Delhi, I hope to give it to him in New York next month if he comes with PM Modi.
Sushma: Let them bring the dossier, we will show them a zinda terrorist.
4. On cancellation of talks
Aziz: Is it conceivable that India would cancel the first ministerial meeting on such flimsy grounds, relating to the Hurriyat leaders? We have always met separatists when we visit India. Since India has still not formally called off the talks, we are ready to go.
Sushma : Mr Aziz is most welcome to India and we will also continue the talks if the meeting is confined only to discussion on terrorism and no third party(separatists) is involved.
5. On running away from talks
Aziz: India is putting pre-conditions for the talks and they are not serious about it.
Sushma: We were under immense pressure to cancel the talks, but we felt that such acts of terrorism require a dialogue. To answer Mr Aziz who is saying that India wants to run from the discussion, I want to say that India is trying to create an environment to resume the dialogue between the two countries.