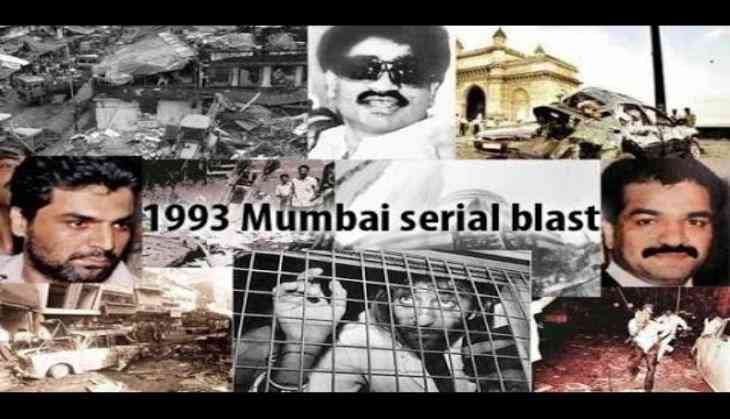 1993 Mumbai serial blasts case
In a major development in 1993 Mumbai Bomb Blasts Case, Abu Salem and Karimullah Shaikh have been sentenced to serve life imprisonment by special Terrorist and Disruptive Activity (TADA) Court on 7th September in Mumbai.
On March 12, 1993, a series of 12 blast took place between 1:30 pm and 3:40 pm across Mumbai in which 257 people died, while 713 others were injured after a series of bomb blasts rocked Mumbai City.
Other accused, Abu Salem and Karimullah Khan, were sentenced to life imprisonment.
Riyaz Siddiqui was sentenced for ten years.
The court had convicted six people, including the mastermind of the 1993 serial blasts that had killed 257 and injured 713 people, Mustafa Dossa and Abu Salem, on June 16 this year.
Dossa had died on June 28 following which, the case against him was closed.
The CBI had claimed that the role of Dossa was "more severe" than Yakub Memon, who was hanged in July 2015 in the same case.
The CBI had also said that Dossa, Merchant and Feroz, were "main conspirators".
Arguments over the degree of sentences continued after the conviction in June and concluded on August 10.
All the accused were facing multiple charges like criminal conspiracy, waging war against the government and murder of people.
This was the second leg of the trial - in the first leg that concluded in 2007, the TADA court had convicted 100 accused in the case, while 23 people were acquitted.
The attacks were planned by Dawood Ibrahim, India's 'most wanted' fugitive who also has his name prominently figuring on the 'most wanted' lists of the US and the Interpol.
How the blasts were planned in two months:
January 1, 1993: Mohammad Dossa holds first meeting at Hotel Persian Darbar, Panvel.
January 19: Dawood Ibrahim and Tiger Memon hold another meeting in Dubai where they make an outline of the plan. Tiger agrees to arrange for landing of arms, ammunition and explosives. Arms and ammunition delivered from Dubai and Pakistan through the sea.
February 2-February 8: Two more consignments of arms, ammunition, detonators, hand grenades and explosives like RDX delivered at Shekhadi Coast in Raigad district.
March 4: Tiger Memon calls for a preparatory meeting at the Taj Mahal Hotel.
March 7: Another meeting held at the house of Shafi, where Tiger Memon forms separate groups for reconnaissance of targets.
March 8: Meeting held at the residence of Babloo, where Tiger Memon finalises the targets.
March 10: Meeting held at the house of Mobina alias Bayamoosa Bhiwandiwala. In the second meeting, Tiger Memon distributes Rs5,000 to each one of them and again forms groups.
March 11: A meeting held at Al-Hussaini Building, Dargah Street, Mahim, where details of the plan are finalised. Co-conspirators store explosives such as RDX and firearms in garages owned by Memon and his relatives at Al-Hussaini building.
March 12: Bombs and other explosives planted at various places. A series of 12 blasts in quick succession rock Mumbai, killing 257 people and injuring 713 others. Property of about Rs27 crore destroyed.
November 4, 1993: Primary charge sheet filed against 189 accused, including actor Sanjay Dutt.
November 19, 1993: Case handed over to the CBI.
April 1, 1994: The TADA court shifts from city sessions and civil court to a separate building inside the premises of the Central Jail at Arthur Road.
April, 1995: 26 accused discharged by the TADA court and charges framed against the remaining accused. Supreme Court discharges two more accused, travel agent Abu Asim Azmi (now Samajwadi Party member of Parliament) and Amjed Meher Baux.
April, 1995: Trial in the case commences.
March, 1995: PD Kode designated as a special TADA judge.
October, 2000: Examination of prosecution witnesses ends.
August, 2001 to August, 2002: Prosecution and defence finish arguments.
2005: Portugal authorities had allowed Abu Salem's extradition in 2005 only on condition that he will not be given capital punishment or be imprisoned for more than 25 years.
August 10, 2006: Kode says judgement will be pronounced on September 12.
September 12, 2006: The court starts delivering the judgement, pronounces four members of the Memon family guilty, acquits three.
December 4, 2006: Special TADA judge PD Kode finishes his judgement in the case.
July 27, 2007: A Special court sentences Yakub Memon to death.
October 19, 2012: Portugal informs India that it is not required to return gangster and 1993 Mumbai blasts accused Abu Salem even though his extradition in November, 2005 was confirmed as cancelled by its apex Constitutional Court three months ago.
March 21, 2013: Sanjay Dutt heads back to jail with the Supreme Court upholding his conviction for illegal possession of a weapon in connection with the 1993 Mumbai serial blasts case.
August 5, 2013: Supreme Court holds that extradition of alleged gangster Abu Salem, 45, to India was valid despite Portugal's constitutional court terminating it. Verdict paves the way for restart of trial of all the cases including the 1993 Mumbai serial blasts case against Salem.
July 30, 2015: Yakub Memon hanged.
2013: Court drops certain charges against Salem in 2013 after CBI moves plea saying those charges were against the extradition treaty between India and Portugal.
June 16, 2017:Six people, including Mustafa Dossa and gangster Abu Salem, convicted of conspiring and carrying out a string of bomb blasts.
September 7, 2017: Abu Salem, Karimullah Shaikh gets life term; 2 others to be hanged.
-With agencies inputs.