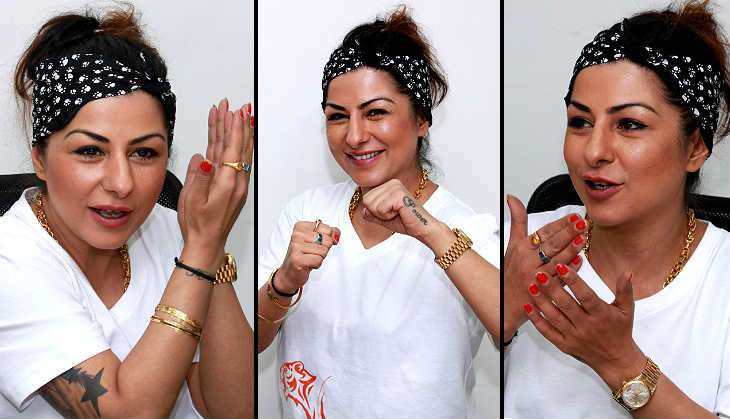 She is considered India's first popular female rapper and 'glassy' worked wonders for her. Hard Kaur was missing in action for a while but the lady is back with a roar. Quite literally.
Hard Kaur has released her latest single titled Sherni and the video is gaining massive popularity on YouTube. During the launch of the single in Delhi, Hard Kaur spoke to Catch about women's empowerment and what Sherni is all about. Excerpts:
What is Sherni all about?
Sherni is about all of us. You are a sherni, I am a sherni. I think everyday in our lives, we have to be sherni to survive. I can't believe that it's still 2016 because women are still dealing with inequality -- getting paid less for doing the same job etc. It just struck me that I've had enough of all this. I now want all girls to become sherni. Let's just stop accepting that we are less than anyone else.
How did you conceive this idea?
I've worked on it a long time back. It took me a while to understand that people do want to listen to this kind of content-based music and it's just that it's not been provided to them. Therefore, I started my own label - Future Records - and Sherni is its first release. Now I know that any day if I feel like doing something independent, I have my own label.
Do you think Sherni is the answer to all the male rappers out there that depend on lyrics that are outright sexist?
I think Sherni is an answer to a lot of things. Sherni is like a revolution. Now things will have to change. There are a lot of good rappers but yes, this (Sherni) is definitely like a middle finger to the fake a*****s.
Does Hard Kaur wake up in the morning, stand in front of the mirror and say I am asherni and let's conquer the world today? Are you that self-motivated?
I think the motivation comes from here (points towards her head). Himmat honi chahye. I think my mother gives me a lot of strength.
What kept you away from the industry all these years?
It's been three years. I wanted to do other things in life. I wanted to enjoy life, sitting idle, doing nothing, watching movies and eating. I was also kind of upset with the fake things going on (in the industry). My aim was to educate people about the real hip hop. I got really frustrated. Everybody knows that I started drinking a lot. There're videos all over. However, I think that phase has been pretty good. I was always making music then as well. I was making my bank (of music) ready.
What is your definition of women's empowerment or feminism?
Don't take anyone's s**t. You are as important as anybody else in the world. Don't think you should have limits -- like 'Oh I am a girl, I can't do this' or 'I am Indian, I shouldn't be behaving like this'. You are a human being like everybody else and life is too short to worry about these things. Live and let live. Stop bugging people. Let them do what they want. Stop hiding behind computer screens and trying to dis people.
Now that Hard Kaur is talking about feminism and women's empowerment, can we expect her to stand up for other female artists over different issues in the industry?
I have already stood up for a lot of people on a lot of issues. But, how much of me standing up for other people is going to make a change unless they themselves start standing up for themselves? I am not going to sit and fight for everybody. Maine sabka theka nahi liya hai. I can't help all. We all need to be a part of this change.