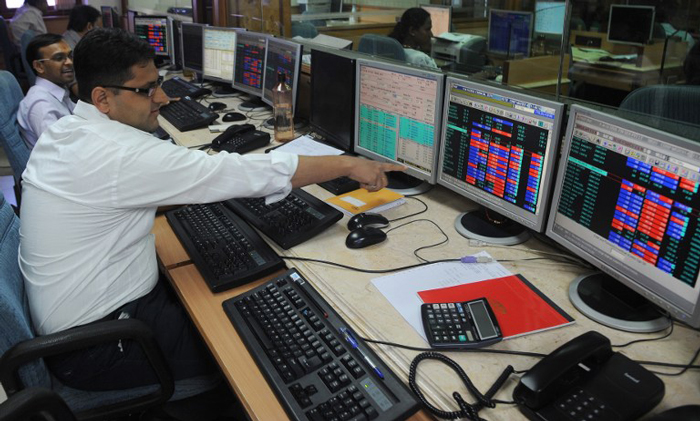 Due to domino effect caused by devaluation of Yuan currency, Asian markets are in the deep red on Monday. Indian currency Rupee has crashed to 66.49 against the US dollar in opening trade.
Stock market benchmark Sensex fell by 1,624 points as the markets closed. The bloodbath didn't end there as investors lost nearly Rs. 7 lakh crore. This is 6.22% fall in the pre-close trade. The loss suffered by the 10 biggest companies in terms of market capitalization is close to Rs. 2 lakh crore.
The underlying factors:
The Shanghai share index has tumbled by 8% to a five-month low triggering fresh concerns globally and affecting Asian markets drastically.
According to experts, Monday's fall has been caused by widespread sell-off in Chinese bourses. Traders and investors are concerned about China's stock markets slowing down and its affect on Indian markets.
There is widespread panic that foreign investors are moving funds out of China and other emerging markets to safer locations closer home to cut further losses.
"The bear phase of this market is here to stay. 8450 and 8350 were very important medium term supports of this market, which have been grossly disrespected. If one were to look at the volume chart of the Nifty Futures, the Bank Nifty and the heavy weights like Reliance, ICICI Bank and Infosys, we see an inclining volume pattern on every downward tick. This formation is a weak signal for the markets," said Manish Hathiramani, Proprietary Trader & Technical Analyst at Deen Dayal Investments.
On being probed about the trend continuing in the coming weeks, Mr Hathiramani added, "From a technical perspective, this trend will continue because it is quite likely that the recent low of 7940 which was made on 12th of June this year will not hold. If we trigger this low, we could see levels of 7800."
The current scenario:
Taking cues from global markets, the Sensex has nosedived 1,624 points, or 6.22%, to 25,741.
NSE Nifty also dipped below the 8,000-level by tumbling 490.95 points, or 5.92% to 7809 as the markets closed on a bearish run.
Catch spoke to Jimeet Modi, Founder at The Indian Trading League about the stock market crash. Below are the excerpts:
The stock markets have slumped by 1624 points and the rupee has fallen to an all-time low. What are the underlying factors driving these slumps?
In the short term, global markets take cues from each other and herd together. The same is happening with the Indian markets too, Sensex is cracking in response to severe dent in DOW Jones last Friday night and surging dollar which is adding fuel to the fire. Indian markets were inherently correcting itself since the beginning of the March this year but it looks like the market is taking cues from Yuan devaluation, Dow Jones fall and is accentuating that corrective pattern.
As such the Sensex needed some reason to release the bull pressure, the global turmoil just acted as justification for the fall. However the OFS of IOC which will potentially suck away liquidity of Rs. 9500 crore would keep up the selling pressure in the market in the short term.
Where do we go from here? Is it just a periodic correction or will intensify further?
This is a normal bull market correction in the Indian context, correcting the entire rise from Sensex 18000 to 30000 reaching in just 19 months. Such huge rally takes time to correct. This correction will last little longer and may even take the year end before the next up move can start.
Market can oscillate at or around these levels with 5-6% either ways in the medium term. No need to panic in the short term, these are typical correction styles in the emerging markets universe across the globe.
India, being an emerging market is affected by turmoil in US markets and depreciation of Yuan currency. Do you think this trend will continue further for India and other Asian economies?
In the short term the Indian market will replicate the movements in the Dow Jones, the Chinese markets and or the rupee depreciation but eventually in the long term investors will chase value which will make India attractive based on its inherent strength and the next stage of bull market will begin then, but till that time market will dance to the tune of global ups and down.
Which sectors will be heavily affected with these fluctuations?
Commodities, Raw materials, Coal, Crude oil, Metals etc prices have dented sharply, therefore companies manufacturing and dealing in these industries will have severe impact on their profitability. Companies linked directly or indirectly with these industries will also be hit in the short term.
What will be the repercussions of this nosedive by the stocks on the economy?
Severe equity asset deflation will act as a damper in spending in luxury and super luxury goods thereby slowing sales of premium homes, automobiles etc which will have cascading effect to some extent in the economic growth impacting consumption cycle.
There was expectation that China would lower its interest rates and inject liquidity into the economy, which hasn't happened as of yet. What is your outlook for Indian economy's recovery from the fall?
Irrespective what the Chinese government does, the Chinese market is in the bear phase, and it will take time to fully unfold itself, irrespective what steps are taken by the central bank there. Indian economy will bounce back on the basis of its own reform agenda and how well the government responds to the economic policy initiatives. With the strong government in place, we are confident the government will deliver and India shall outshine all other major economies in terms of growth and returns to investors.
India is at the cusp of economic expansion based on huge consuming population and falling raw materials and consumable prices like the crude and base metals amongst others which will be hugely beneficial in terms of savings and increasing purchasing power which will fuel economic expansion. We believe that a fall in commodities will lead to a fall in long term inflation which in turn will lead to a fall in the Long term Interest rates which will trigger the next phase of a secular bull market. India clearly stands out from the rest of the world based its inherent economic strength.
Major losers:
Vedanta: 15.30%
Tata Steel: 13.11%
GAIL: 12.78%
ONGC: 11.17%
Bajaj Auto: 9.09%
Cipla: 8.99%
Oil markets:
Crude oil prices fell after slipping below USD 40 barrel for the first time in six years after weak Chinese manufacturing data.
Brent crude, the international benchmark had previously fallen $1.63 to $48.78, which was close to its January low ($45 per barrel).