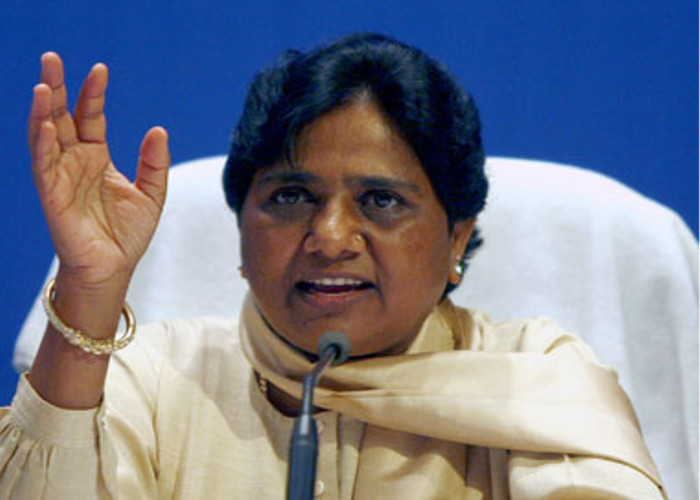 Cautioning Dalits against Bhartiya Janta Party's plans to "impose" the "old varna system", Bahujan Samaj Party chief Mayawati on 31 October said there was need to stop the saffron party from coming to power both at the Centre and in states.
Addressing the media, Mayawati said, "BJP aims at imposing the old varna (class) system to ensure that Dalits remain slaves and for making India a Hindu state. Dalits, backwards and other backwards need to unite to stop BJP from coming to power or else they will gradually end quota system for them."
She further alleged that like former Prime Minister Atal Bihari Vajpayee, Narendra Modi government also wanted to end the reservation facility for these sections of society.
"The then Vajpayee government had also tried to go ahead with constitutional review with the aim of ending quota and massive protests were held against it and there were intelligence reports that the government wanted to impose varna system to make the country a Hindu rashtra," she claimed.
On the recent views of RSS chief Mohan Bhagwat on the reservation issue, she said they have dented BJP's electoral fortunes in Bihar following which Modi has been forced to tell the people that there would be no change in it even if it means giving up his life.
"There is no need for Modiji to put his life at stake for saving reservation he can only deny Bhagwat's statement categorically but he will not be able to do so," she said.
"I want to tell the Shankaracharyas that if they end the ills facing the Hindu religion so that it could also expand like Buddhism and then no one will be forced for 'ghar wapsi'," she said, adding, it was because of the bad practices in the religion that forced Ambedkar to give up Hinduism on 16 October, 1956 with his followers," she said.
The BSP supremo charged Prime Minister Narendra Modi with projecting himself as an OBC at election time to gain political mileage though he belongs to prosperous "khanji" caste of Gujarat.
"Modi wants to woo votes of these sections and is projecting himself as OBC during elections time whereas the reality is that he comes from prosperous 'khanji' caste of Gujarat," Mayawati said.
The former UP chief minister alleged that Modi government was adopting the stand similar to the one taken by Congress government.
-PTI