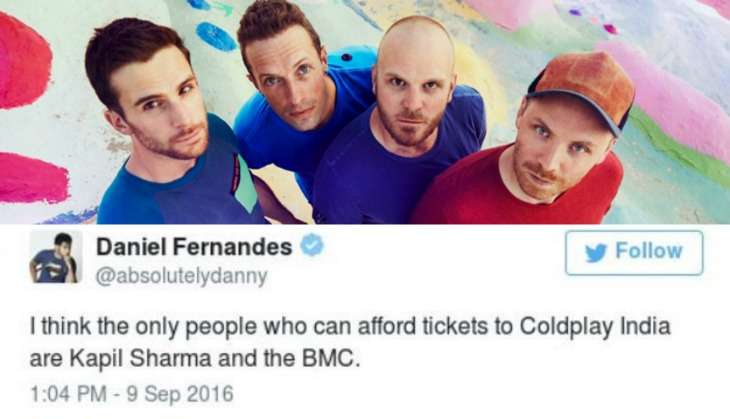 Coldplay is finally going to perform in India - all right, fine - in Mumbai and it has triggered mass hysteria.
First came the all-consuming joy over the fact that fans could actually listen to Hymn for the Weekend live. Then came the moment when jaws collectively dropped on the floor after the prices of the tickets were announced.
Mid-Day reported that Coldplay was scheduled to perform at Mumbai's MMRDA grounds on 19 November. The dialy quoted a source as saying:
"The official tickets will go live on Book My Show on 12 September next week and prices start from Rs 25,000 to the highest category tickets at Rs 5 lakh a ticket".
According to the report, the event is a charitable one, the intention behind which is to support a noble cause - to remove extreme poverty from the world by 2030. The event will reportedly also feature Jay Z, Amitabh Bachchan, Aamir Khan, AR Rahman and Deepika Padukone.
Well, charity is fine but now people need to find someone charitable enough to fund the tickets of the urban poor among the millennials. Because Rs 25,000 is base price. Costs actually GO UP TO RS 5 LAKH.
Hey Coldplay, Rs 25,000 is rent for a majority of Indians, not the cost for a ticket. Which pea-brained pathetic excuse for a human being thought this would be a good idea in a third world country?
Twitter, of course, is both bemused and outraged.
When you hear that Coldplay tickets will cost 25k a pop. pic.twitter.com/dofaKDyZHT

— That Goan Boy (@schmmuck) September 9, 2016
I'll pay 25 k for #coldplay concert if Chris Martin promises to sing " Tum To Thehre Pardesi ", the whole 14 minute version

— Nachiket Kale (@nachito_kale) September 9, 2016
Feeling urban poor after seeing Coldplay India concert ticket price.

— Trendulkar (@Trendulkar) September 9, 2016
Feeling sorry for all those people who sold kidney to buy iPhone and now have to sell iPhone to buy Coldplay tickets.

— Purva (@thatobesewoman) September 9, 2016
I think the only people who can afford tickets to Coldplay India are Kapil Sharma and the BMC.

— Daniel Fernandes (@absolutelydanny) September 9, 2016
"YESS COLDPLAY IS COMING TO INDIA OMGG MY FAVES"

"Tickets are for 25k"

"Nucleya is better, vaise"

— Azeem Banatwalla (@TheBanat) September 9, 2016
Surely this Coldplay concert is being organised by Income Tax Dept. as part of black money repatriation?

— Sitter of Fences (@sidin) September 9, 2016
Only stupid people will pay 25K for Coldplay concert, real men will spend 2500 on drinks, chakhna and listen to Jagjit Singh for whole month

— EngiNerd. (@mainbhiengineer) September 9, 2016
"And I will try....to fix you" - Indian fans singing to their bank account after they bought a Coldplay ticket.

— Sahil Shah (@SahilBulla) September 9, 2016
People who can afford to buy #Coldplay concert tickets in one pic pic.twitter.com/N2sepc303W

— The Viral Fever (@TheViralFever) September 9, 2016
Buying #coldplay concert ticket. pic.twitter.com/ZpXXIIJXIl

— The Viral Fever (@TheViralFever) September 9, 2016
First you want me to cry spending 25k for ticket. Then cry because I'll be hearing Coldplay live. Cry TWICE in a month, who am I Aamir Khan.

— Akshar (@AksharPathak) September 9, 2016