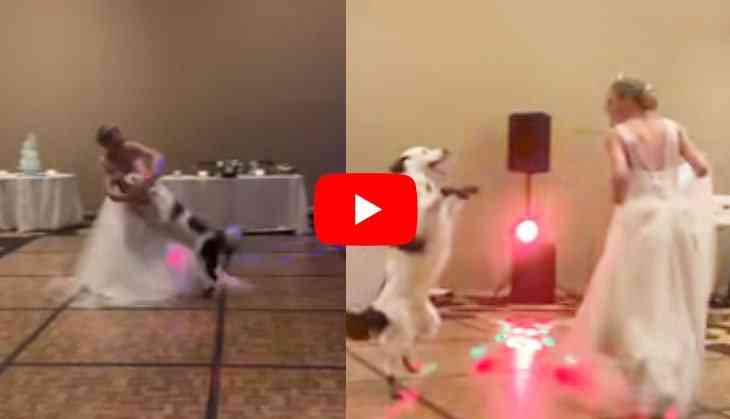 An awwdorable video has come to light in which a bride can be seen shaking legs with her four-legged animal. Interestingly, she was celebrating her big day i.e. wedding day with her pet dog, and both of them have danced on 1980s superhit track, 'Footloose'.
The video was recorded in Las Vegas last week on her wedding day, and went surface on the Internet after it got shared on social media platform. In the video, the American bride wowed not only her guests but all netizens who have watched her dancing video with her pet dog.
Well, she is not an ordinary bride like other, as she is an ex-contestant of America's Got Talent show and her name is Sara Carson Devine, who is a dog trainer.
In the viral video shared on Facebook, Instagram, her friends and family member were heard cheering for the bride and her beloved pet dog.
Dressed in her pristine white wedding gown, Sara and her dog showed some marvelous dance steps and entertained their audiences.
During their dance performance, Sara also made a hoop with her hand and Hero jumped on to her back.
The video was shared on social media with a caption, "Today was a big day! So happy to have Hero by my side through my life's journey. We had a Super Devine night."
See Video:
What an amazing performance!

This viral video of Sara and her Hero went viral and has garnered over 43,000 views on Instagram. Netizens have congratulated Sara for her wedding with John.
As per the reports of Daily Mail, the 24-year-old trainer also revealed that she was bit nervous while doing dance in her huge wedding gown as they didn't practice for this dance and had no idea how would they perform.
Well, Sara and her Hero was the contestant of America's Got Talent Season 12 and they secured the fifth position among all participants.
Also Read: Know who you are? First thing you see in this picture will define the 'real' you