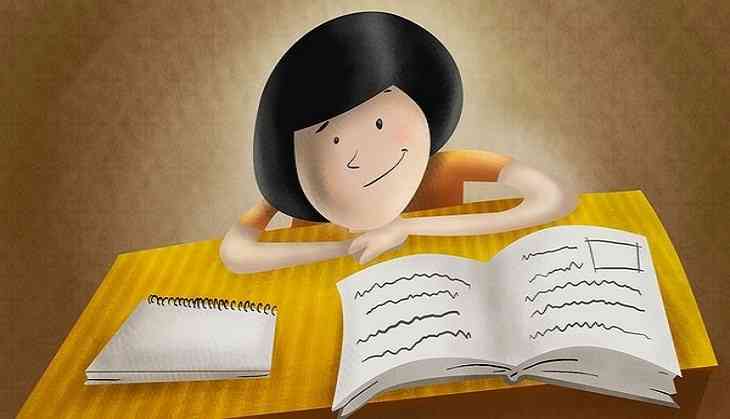 Times have changed and gone are the days when Vijayadashmi was celebrated by Hindus alone in Kerala. This day now sees thousands of tiny tots cutting across caste, creed or religion writing their first alphabets.
On 30 September's morning saw a mad rush at temples, clubs, media organisations, where young parents queued up with their children as this day is considered the most auspicious day when elders, both men and women, help tiny tots to write their first alphabet.
All centres saw parents dressed in typical Kerala style waiting in queues with their children. When their turn comes, the child is made to sit on the lap of the 'teacher' who holds its hand to help write the Malayalam letters on a plate of rice grains.
While the Hindu children write 'Hari Sree Ganapathaye Namaha', Christians write 'Sree Yesu Mishihaye Namaha'.
And at some places, using a gold ring, the 'teacher' writes a Malayalam word on the child's tongue.
The parents then hand over a token offering to the 'teacher' for the service.
As always, the biggest crowd was witnessed at the Thunachan Paramabu near Thrissur, considered the home of Malayalam litterateur Thunchathu Ezhuthachan, where Jnanpith award winner M.T. Vasudevan Nair helped many children write their first alphabets.
Another place that saw big crowds was at the famed Panachikkadu Temple, dedicated to the Goddess Saraswati. Situated in Panachikkad in Kottayam district, this temple is popularly known as Dakshina (southern) Mookambika. There were 56 'teachers' who acted as gurus to the tiny tots, and a record 20,000 registrations were made at the temple. The temple authorities said that the session began at 4 a.m. and it could go on till sunset, due to the thronging crowds.
Leading media houses in the state at their various centres also held the function. Roped in as teachers were retired IAS officers and popular literary personalities, medical professionals and politicians, which included former Chief Minister V.S. Achuthanandan.
-IANS