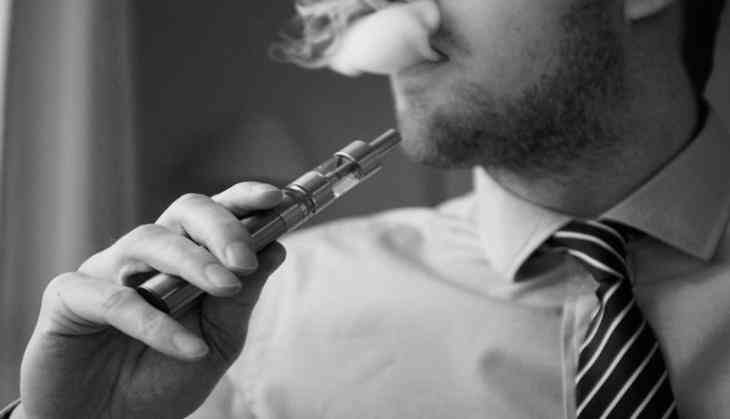 e-Cigarettes increse the burden of cancer (ANI)
With electronic (e)-cigarettes gaining popularity, there has been a push to understand whether or not they are a "gateway" to cigarette smoking.
E-cigarettes may harm public health and ultimately increase the burden of cancer if their use contributes to more cigarette smoking among youth. A new collaborative Dartmouth study led by Samir, Soneji and James Sargent demonstrates that this potential harm should be taken very seriously.
The study focused on an important and controversial question: Does e-cigarette use increase the risk of future cigarette smoking among adolescents and young adults? The team conducted a systematic review and meta-analysis of published studies that began with non-smoking youths and asked whether initial e-cigarettes use increased the risk they would subsequently transition to smoking cigarettes.
To rule out the possibility that e-cigarette users were simply higher risk youths, the analyses adjusted for known risk factors for cigarette smoking (like having a friend that smokes). The results showed strong and consistent evidence of greater risk between initial e-cigarette use and subsequent cigarette smoking initiation, regardless of how initiation was defined and net other factors that predict cigarette smoking.
The studies did not address why e-cigarette use increases risk of transitioning to cigarettes. The reason could be that e-cigarettes mimic smoking behaviour through similar involvement of hand-to-mouth movements, or puffing and exhalation. E-cigarette aerosol also contains nicotine, so use of these devices could enhance exposure and eventual addiction to this substance.
"The finding is very consistent across studies. That along with the strength of the association makes it probable that e-cigarette use is one cause of cigarette smoking," said Sargent. "E-cigarette use could affect population trends in youth smoking if use becomes more common, and that is the big public health concern."
"In addition to the currently enacted age restrictions on in-store sales, regulatory actions to limit e-cigarette use could include restrictions on advertising campaigns that may be viewed by adolescents, flavour restrictions for e-cigarettes that exclude fruit and candy flavours, strict standards for reporting actual nicotine content in e-liquid, and requirements for strict age verification for online and retail sales of these products" suggested Soneji.
Until more effective regulatory actions are taken, the team will continue to evaluate the excess risk posed by e-cigarette use for cigarette smoking with newer generations of e-cigarettes.
The findings will be published in an upcoming issue of JAMA Pediatrics.
-ANI