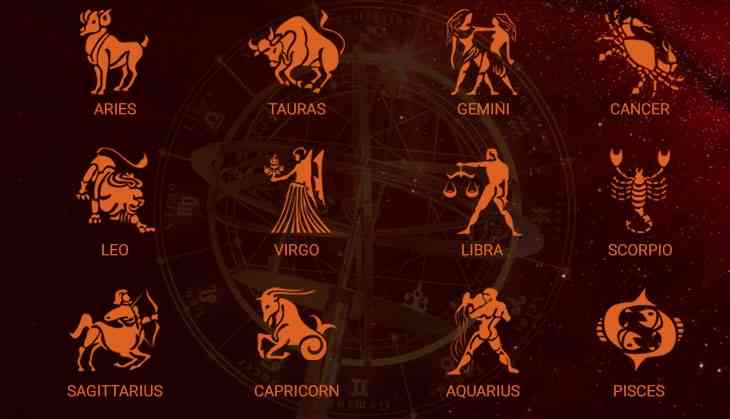 1. ARIES
Your day will be filled with self-confidence and capability to complete all your work which is why you will attain a very special position at the workplace. You are likely to be awarded for your work as it will be complete and all up to the mark but do not expect more and be happy in whatever you have got till date. You will try to pull yourself in the later half of the day by doing something that is meaningful and that will hopefully bring success to you.
LUCKY COLOUR- ORANGE
LUCKY NUMBER- 9
2. TAURUS
Some issues in your life are changing too fast for you to stay in the loop and keep yourself in sync with the times. Even though you are prone of change itself, it is a bit difficult on your heart and you feel the need to slow down enough to catch your breath.
LUCKY COLOUR- PINK
LUCKY NUMBER- 9
3. GEMINI
You might feel a little stressed out today and people will pull you in too many directions. These can be coming in both from home or work. Try to shift your focus and attention and prioritize your duties accordingly so that you don't miss on anything. You may as well receive some recognition and appreciation for your work today.
LUCKY COLOUR- GREEN
LUCKY NUMBER- 3
4. CANCER
Happiness, entertainment, rest and true relaxation are on the cards for you. After understanding the philosophy of life, you will now reap the benefits of the makeover. You will now spend some valuable time with your loved ones. It will be one of the best days of your life and you will try to save some money for your future.

LUCKY COLOUR- RED
LUCKY NUMBER- 4
5. LEO
Today will be a very dark and gloomy day for you. You will feel yourself surrounded by a lot of negative people and their negative opinions but do not let yourself down because each day brings new hope for you to rise up and again. Try to express your creative side to all the people. Listen to good songs and cheer up your mood by going out on a dinner with your family.
LUCKY COLOUR- DARK GREEN
LUCKY NUMBER- 7
6. VIRGO
Try to control your anger or else your near and dear ones will suffer from sadness. If you are a writer than your output will be amazing and of high order. Today is the day for the creative people so do not refrain from taking up new challenges. Mixing business and pleasure works to your advantage today and you can expect proper remuneration for the endeavours you've put in recently.
LUCKY COLOUR- GREY
LUCKY NUMBER- 8
7. LIBRA
Your intention is pure but still you might hurt someone with your word at your work. Today you might be able to become someone's inspiration. But you need to be extra-careful because there might be someone who is saying something but thinking something entirely different.
LUCKY COLOUR- MAGENTA
LUCKY NUMBER- 2
8. SCORPIO
Maintain your awareness about what is happening around you, as there can be more than meets the eye. Don't get roped into spending money that you really can't afford to part with. You may receive valuable information that helps you see the facts more clearly. Slow and steady is the key to a wonderful romance. You'll find a way of overcoming fears.

LUCKY COLOUR- RED
LUCKY NUMBER- 7
9. SAGITTARIUS
Your creative juices will be flowing today and if your life can be enhanced in any way by a creative perspective or outlook, then you should grab that lucky chance as soon as possible. Give the artist that lies in you a chance to assist the more practical side of you and bring forth a winning combination.
LUCKY COLOUR- MAROON
LUCKY NUMBER- 5
10. CAPRICORN
You will have to get more responsible at you workplace because you seniors are keeping a watch on what you are doing. On the personal front, you will also feel that the emotional connect between you and your partner is decreasing and so you will work hard to reduce that gap.
LUCKY COLOUR- PEACH
LUCKY NUMBER- 5
11. AQUARIUS
Today is a day when you will be all busy preparing for a special event maybe a birthday or an engagement. This will give you a sign of relief from the feeling of loneliness that you had been suffering from quite a long time and which had made you upset and irritated. Your family and your colleagues will be happy for you
LUCKY COLOUR- BROWN
LUCKY NUMBER- 4
12. PISCES
Today will be a day when you will reap the results of your hard work. You will work really hard to achieve what you want to from a very long time. You will try to somehow pro-cure your favourite things.
LUCKY COLOUR- BLUE
LUCKY NUMBER- 8