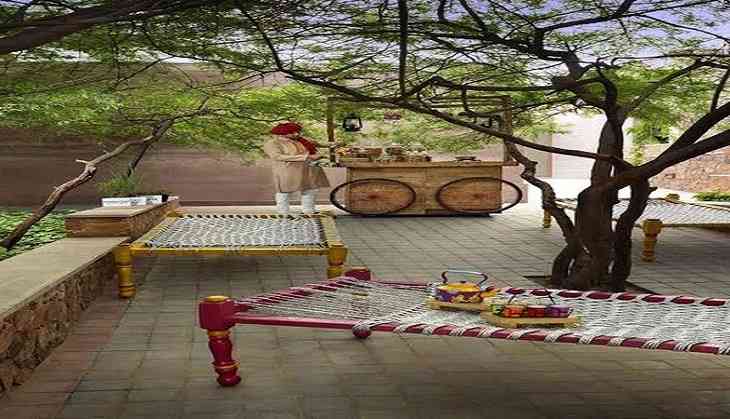 Nature is the ultimate solace. So, for a quick weekend getaway, head to Mangar Bani Valley, which is an oasis of retreat for city dwellers.
The valley has tremendous historic significance. Mangar Bani is one place in the Indian sub-continent that has remained untouched by rulers over centuries, including the colonial rule.
The compelling geographical boundaries ensured this sacred forest remained nestled peacefully in nature's lap for years.
Nestled in the middle of Mangar Bani Valley, The LaLiT Mangar is a wellness destination just outside New Delhi that boasts of huge green cover housing six lakh trees.
The very earth and stone it's made of came from the land it stands on, using a technique called ` rammed earth architecture`.
The unique concept of earth rammed architecture uses raw materials like earth chalk and gravel in layers. Rammed earth is non-toxic, non-polluting, and it breathes.
And if you feel like exploring the adventurous side of yours, the hotel also offers a range of outdoor activities in the nearby vicinity like rock climbing, rappelling, zip lining, zorbing, atv, obstacle course etc.
For all the health enthusiasts, The LaLiT Mangar ensures what is served on your plate is the best in taste and health. All the vegetables are produced through organic farming in their in-house farms so that all the food items are totally chemical free and intact with nutritional value.
Relax and unwind while spending quality time with nature with the Time Reversal Spa. The clean and fresh environment of Mangar will refresh your mind, body and soul.
It is managed by Dr. Mosaraf Ali, who is an expert of Integrated Healthcare that blends conventional and traditional medicines.
Dr. Ali's client list includes many celebrities from across the globe like Sylvester Stallone, Morgan Freeman, Samuel Lee Jackson, Sachin Tendulkar and Shah Rukh Khan.
The LaLiT Mangar span can be reached by driving out from the capital for about an hour.
-ANI