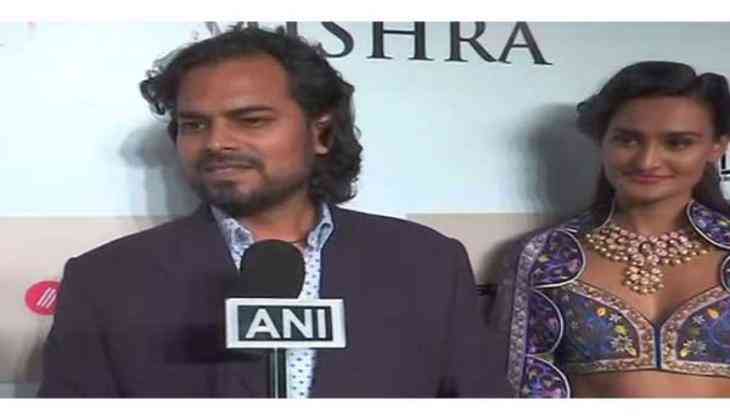 While many couturiers choose to take a bow with Bollywood celebrities at the end of their shows, designer Rahul Mishra made his wife and 1-year-old daughter take the centre ramp.
Talking about his baby girl Aarna, who'll soon be turning two, the elated designer said that she was the perfect showstopper as she has always brought in good luck.
Mishra's couture collection for 2017 'Parizaad' was a poetic confluence of yarn, colours, textile and ornamentally hand worked motifs that draws from the vast reservoir of ancient science and architecture, impressing the fashionistas.
While talking to ANI, the ace designer explained that the word 'Parizaad' means "something out of heaven or something, which is born out of divinity."
"We did complete ideation and the inspiration came from Islamic art, but at the same time, we tried to give signature zen kind of lead to that a very feather like feel. We choose fabrics very carefully, lightest possible fabric like superfine cotton voil or silk organza,"
"I have always been influenced by geometry. I think Islamic architecture is one of the golden period in human history in terms of architecture, in terms of beauty
The fabrics that dominated that show also included Chanderi, handwoven banarasi, brocade and cut work fabrics.
He also stated that in this collection, he used an art work that has seven colours, called 'Haft Rangi.'
The presentation brought forth new forms of visual expression, where abstraction and complex geometry create kaleidoscopic multiplicity and infinite patterns.
The mathematics of tessellation or passion of geometry and other elements of the structure and attention to detail and fusing it with embroidery to enhance the feel of luxury is what makes this collection special, preserving traditional techniques and craftsmanship.
The collection showed an eclectic mix of beautifully hand crafted lehngas, kalidars and silhouettes inspired from traditional Indian ensembles.
-ANI