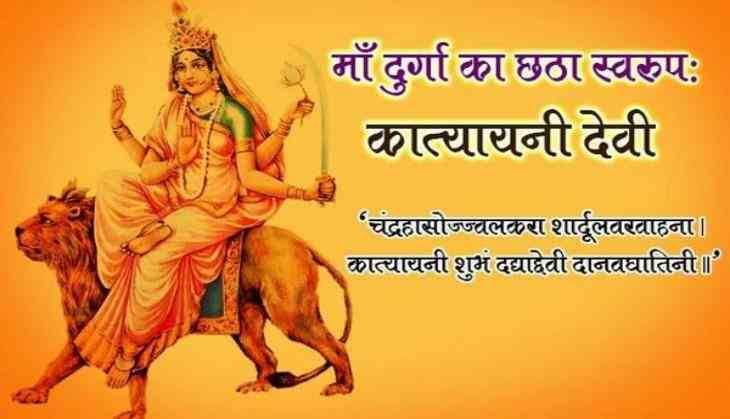 Goddess Durga's sixth avatar
Navratri is the most auspicious festivals celebrated by the Hindus. During the nine days of festival, devotees make their routine to worship the nine avatars of Maa Durga.
Amid of festive season that are going on, people are also celebratring this multi-day Hindu festival.
Today is the sixth day of Navratri. It is the day of Maa Katyayini, sixth avatar of Maa Durga. This is the second name given for Parvati in amarakosha. She is also referred as a warrior goddess, which also includes Bhadrakali and Chandika. It is to be believed that to destroy demon Mahishasura, Goddess Parvati took the form of Goddess Katyayani. It was the most violent form of Goddess Parvati. Maa Katyayini traditionally associated with the colour red.
Maa Katyayini has 3 eyes and 4 hands. She holds a sword in her one left-hand and a lotus in another.
The other 2 hands show protecting and allowing actions. If you make vow of fasting and worshipping her, she would bless you with the husband you have wished and prayed for. If a lady's marriage is getting delayed due to one or the other reason, she may worship Maa Katyayani to remove obstacles that may be causing delays in one's marriage.
Here is the process that you can follow to worship Maa Katyayini:
Devotees can offered cloves, cardamoms and sandalwood to Maa Katyayani. Before doing prayers light a diya, incense sticks and chant "Om Hreeng Katyayaayanye Swaha, Om Shreeng Katyayaayanye Swaha". Devotees also recite the Durga Saptashati after offering the puja. It is to be believed that red is the favorite colour of Maa Katyayini. So, devotees can wear red colour while doing the Puja.
The appropriate time for 'Puja' is before 4:47 today.
This year the festival starts on 21 September and ends on 30 September.