Pornhub is back this time of the year with a new yearly data report on ranking of the top 20 countries by traffic and the survey results are interesting as ever. The year in review report by the leading adult content website ranks India as the fourth biggest consumer of porn among countries worldwide. However, last year India had won a bronze.
Made in India porn is what Indians love to watch
The report reveals that Indians love to watch Indian porn. The report says: "The majority of searches (top, relative and gaining) include 'Indian'. One top term that came seemingly out of nowhere to make it into the top 10 list was 'Indian aunty with young', flying up to the top by 81 spots."
The data report also revealed that 30% porn consumers in India are women.
Much like last year, Indians were hooked on to their smartphones and laptops in pursuit Indian porn. The US and UK led the traffic this year, while Canada unseated India, eventually taking the third spot.
Pornhub, world's biggest porn website, says that Sunny Leone (NSFW) is India's number one searched porn star and 'Lesbian' makes it to the number two spot in the top categories.
The most searched keywords by Indians while watching porn will give a clear picture of what they like to watch the most: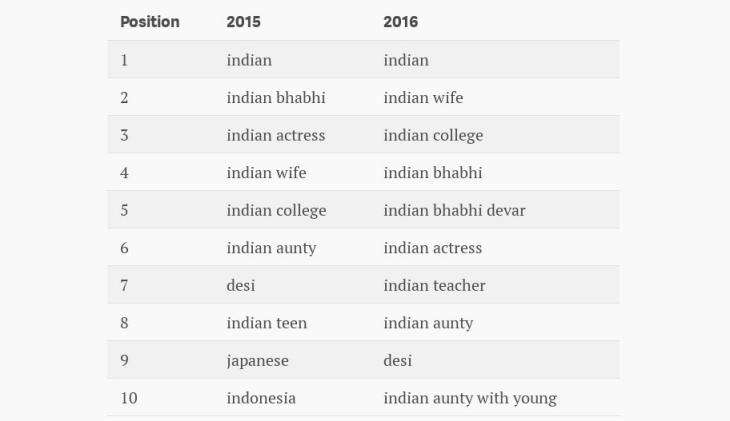 So no Japanese, Chinese or African distractions this year.
Also, with more smartphone users and access to high speed internet and 4G, Indians are increasing their share in Pornhub traffic - from 60% in 2015 to 70% in 2016.
At least, somewhere Digital India is kicking in.
Read the full report here.