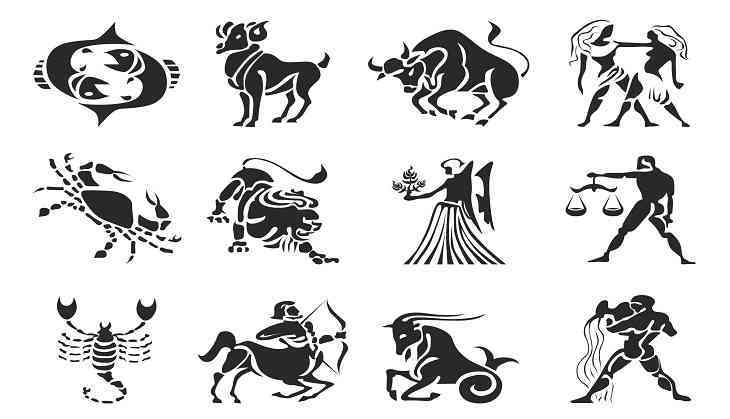 1. ARIES
Today is a day when you will be busy between both your work and family and both will need your immediate attention. You would want to become famous but the people around you will create probles for you and will try to bring you down but do not lose hope and try to do the best you can to achieve your goals and you will definitely succeed.
LUCKY COLOUR- ORANGE
LUCKY NUMBER- 1
2. TAURUS
Today is a day when you need to work on your health more. Get a health check up done and visit a doctor to get relief from all those tention of yours. Join a yoga class or take join a gym to stay fit because your health is more important than any other work of yours. Your family too will be worried about you and so it is high time when you should get serious about your health.
LUCKY COLOUR- VIOLET
LUCKY NUMBER- 8
3. GEMINI
Today all you close relationship will seek for your attention and it is your duty to fulfill their wishes because along with your work they too are important. At your workplace, things will be smooth and you will be busy ith a lot of work and responsibilities and this is because your seniors trust you and your work.
LUCKY COLOUR- WHITE
LUCKY NUMBER- 2
4. CANCER
You will have to face some kind of tension which will have an effect on your physical and mental health. You will have some really important meeting today which will end up successfully but you will be tired after it gets over. You will also get a great opportunity to participate in some social functions.
LUCKY COLOUR- MAROON
LUCKY NUMBER- 8
5. LEO
Today you will finally enjoy the fruits of your hard work. You will analyze the good and bad of every situation and then will draw a conclusion and distribute your responsibilties. Be practical and you will be successful in the real future.
LUCKY COLOUR- YELLOW
LUCKY NUMBER- 4
6. VIRGO
It will be a romantic today for those who are married or have lovers. Singles can expect to get mingled today. It will a day when you renew old relationships and also from some new ones. Go out with your friends or family and make the most of your time by spending it with the people who matter to you the most.
LUCKY COLOUR- RED
LUCKY NUMBER- 7
7. LIBRA
Today, you are likely to be rather emotional and sentimental which can be both good and bad or you. Your love for performing arts and other creative activities will force you to take up lessons in classical music or traditional dance. And much to your delight, your sweetheart will treat you to a surprise candle light dinner.
LUCKY COLOUR- MAGENTA
LUCKYC NUMBER- 2
8. SCORPIO
There are few days when the artist inside you gets awake and today is one such day when you are fully alive and want to make the best of your time by utilizing it in creative activities such as dancing, singing, reading or any other. People who are in the field of media will have a very high spirited day and all your imaginative powers will be on a roll.
LUCKY COLOUR- GREEN
LUCKY NUMBER- 1
9. SAGITTARIUS
A happening day awaits for you where you will get to see a lot. Get ready to learn some valuable lessons of your life from people who are experienced than you and are the masters of their art. Keep your eyes wide open and your ears clear to listen to their advise. Your seniors will help you in a work because they trust you.
LUCKY COLOUR- BROWN
LUCKY NUMBER- 9
10. CAPRICORN
Today, you will have a lot of fun with your siblings! Though generally well-organised and methodical, you will enjoy going with the flow of what your siblings and friends plan for you. They will either take you out for a great day and you will have a super day unlike the usual weekdays that you spend in your office.
LUCKY COLOUR- INK BLUE
LUCKY NUMBER- 5
11. AQUARIUS
Perhaps you haven't quite committed to this union yourself. If you're holding back, waiting for the other person to open up, this may be the cause of the standstill. A lot of your time today could be spent working on financial matters on the computer, phone, or other form of technology. This could have to do with your job or it could concern personal finances.
LUCKY COLOUR- GREY
LUCKY NUMBER- 1
12. PISCES
You're in charge, well at least you feel like you are. This could mean that you've earned trust and respect, so that you can move forward in your professional life. Keep yourself out of the spotlight, if you can. You have a good deal of preparation ahead of you, and you may need some privacy. Visit a sick friend or an elderly person who doesn't get many visitors.
LUCKY COLOUR- PINK
LUCKY NUMBER- 4